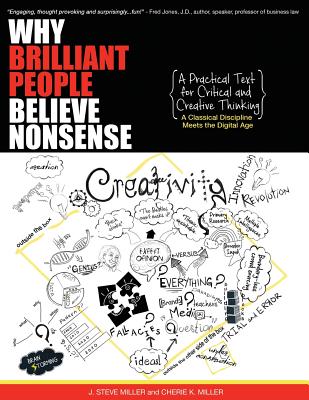 Why Brilliant People Believe Nonsense (Paperback)
A Practical Text for Critical and Creative Thinking
Wisdom Creek Academic, 9780988304895, 448pp.
Publication Date: September 4, 2015
* Individual store prices may vary.
Description
"Engaging, thought-provoking, and surprisingly...fun "
- Dr. Fred Jones, professor, Supreme Court attorney, author and speaker
Recent surveys of over 1,000 recruiters rank creative and strategic thinking at the top of their lists for both what they're looking for in candidates, and what they're having a hard time finding. This book, in a remarkably accessible, practical and entertaining way, equips readers to meet these needs, as well as to:
- Think more clearly
- Innovate more creatively
- Manage life's decisions with more confidence
- Simplify complex and convoluted arguments
- Express convictions more powerfully
Targeting high school seniors and college freshmen, but useful to all adult readers, the authors examine surprising and costly mental errors made by respected business leaders, entertainment moguls, musicians, scientists, civic leaders, generals and academics. Then, they draw practical applications to help readers avoid such mistakes and think more creatively in each field.
Twenty-five chapters address innovation, outside-the-box thinking, creativity, questioning expert opinion, developing idea-driven cultures in businesses, research, logic, worldviews, crowd sourcing, paradigms, harnessing the power of teams, deductive and inductive thinking, etc.
Chapter Titles
Why do brilliant people believe nonsense?
Chapter 1 - They're Overconfident
Chapter 2 - They're Under Confident
Chapter 3 - They're Married to Brands
Chapter 4 - They're Blinded by Prejudices, Preconceptions and Biases
Chapter 5 - They Believe What They Want to Believe
Chapter 6 - They're Trapped by Traditions
Chapter 7 - They Fail to Identify Hidden Assumptions
Chapter 8 - They Underestimate the Power of the Paradigm
Chapter 9 - They Fail to Account for Worldviews
Chapter 10 - They Contradict, Leave Out Valid Options, and Knock Down Straw Men
Chapter 11 - They Fall for Other Common Fallacies
Chapter 12 - They Either Fail to Recognize Fallacies, or Misapply The Ones They Know
Chapter 13 - They Draw Conclusions from Inadequate Evidence
Chapter 14 - They're Snowed by Success Bias
Chapter 15 - They "Discover" Meaningless Patterns
Chapter 16 - They Fail to Closely Examine Statistics
Chapter 17 - They Make Common Statistical Blunders
Chapter 18 - They Fail to Learn from History
Chapter 19 - They Learn the Wrong Lessons from History
Chapter 20 - They Miss Subtle Shifts in Word Meanings
Chapter 21 - They Misinterpret Phrases and Sentences
Chapter 22 - They Use Faulty Parallels and Analogies
Chapter 23 - They Fail to Identify and Interpret Fiction and Figurative Language
Chapter 24 - They're Overwhelmed by Their Emotions and Passions
Chapter 25 - They Fail to Reason with Emotional Intelligence and Common Sense
"Why Brilliant People Believe Nonsense should be must reading, not just for every college freshman, but for anyone who wants to think clearly and rationally."
- Doug Erlandson, Ph.D., author, assistant professor of philosophy, University of Nebraska (retired).
About the Author
J. Steve Miller, award-winning author and president of Legacy Educational Resources, teaches at Kennesaw State University. He has taught audiences from Atlanta to Moscow and is known for drawing practical wisdom from serious research and communicating it in accessible, unforgettable ways. His award-winning books have been translated into multiple languages. He offers seminars on "Critical, Creative and Innovative Thinking" (for students and businesses) as well as "Maximizing Critical/Creative Thinking in the Classroom" for teachers. Cherie K. Miller earned a BS in Communication with an emphasis in Media Studies, followed by a Master of Arts in Professional Writing, both from Kennesaw State University. As her thesis, she wrote a memoir entitled "One in a Million: Living Courageously with a Traumatic Brain Injury." During her time at KSU, she won several awards, . including Best College News Editor, Best Research Thesis and College of Humanities and Social Sciences' Staff Member of the Year. Since graduating, Cherie has published three books and numerous articles. Her research interests include animal studies, disability studies and the art of writing.