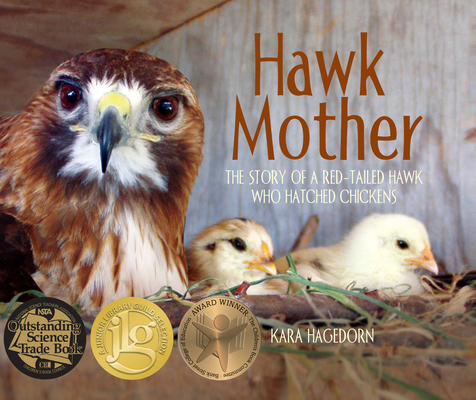 Hawk Mother (Hardcover)
The Story of a Red-Tailed Hawk Who Hatched Chickens
Web of Life Children's Books, 9780988330375, 32pp.
Publication Date: September 19, 2017
* Individual store prices may vary.
Description
What happens when two baby chickens find themselves in a nest with a hawk? Don't hawks usually eat chickens? Sunshine, a red-tailed hawk, can no longer fly free. But her instinct to be a mother is so strong that she builds a nest in her aviary every spring and lays two infertile eggs. One year, Kara, her caretaker, decides to try something different. She gives Sunshine two chicken eggs. Join zoologist Kara Hagedorn and Sunshine to find out what happens in this delightful story of interspecies cooperation.
About the Author
Kara Hagedorn loves animals. In college she studied zoology. She has worked as a wildlife biologist for Cornell University, Morro Bay National Estuary Program, Topaz Solar Farm and New York State Parks, where she was also a naturalist and environmental educator for 12 years. Kara lives in Santa Margarita, California, with her husband, two horses, and Sunshine the hawk. To learn more about Kara and her school presentations, visit www.hawkmother.com.