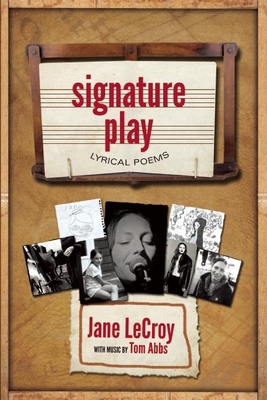 Signature Play
Paperback

* Individual store prices may vary.
Description
New York-based poet, singer and performance artist Jane LeCroy marks her first full-length poetry collection with Signature Play, an exquisite book of her lyrical work, paired with music by Tom Abbs, her partner in the experimental group Transmitting. The work is lively, contemporary, strong, feminist and fragile at the same time, and sheet music included with the book makes for a unique mix of media. QR codes connect the user to listening and viewing and portals, and the book also features a mix of LeCroy's collages and other art. Transformative artist Animal Prufrock exudes, Jane LeCroy will be known as one of the great poets of this century. A sorcerer who spells songs and spills poems-The Emily Dickinson of our time-instead of leaving notes in aprons-she leaves us poems in boxes, freshly delivered-immediate delights and delicious pains... King Missile frontman John S. Hall notes, This is the overview that Jane's work has long deserved, featuring poems that shift from the intimate to the infinite, often in the same, sweet, soulful breath. . . Three cheers for Three Rooms Press and Jane for putting together this stupendous collection Singer/songwriter Ani DiFranco says, i think of Jane like blackberry brambles. juicy berries always ripening. to pop one of her poems into my mouth is pure pleasure.
Three Rooms Press, 9780988400870, 120pp.
Publication Date: April 22, 2013