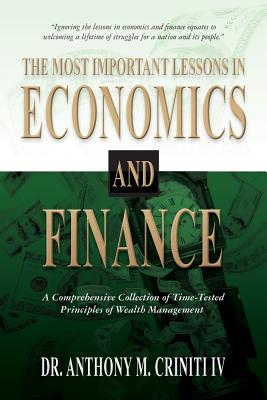 The Most Important Lessons in Economics and Finance
A Comprehensive Collection of Time-Tested Principles of Wealth Management
Paperback

* Individual store prices may vary.
Description
The Most Important Lessons in Economics and Finance: A Comprehensive Collection of Time-Tested Principles of Wealth Management represents the fruits of an audacious undertaking: the pursuit of the most effective economic and financial principles from the dawn of record keeping to the present day. Using everyday terms and readily grasped concepts, Dr. Anthony M. Criniti IV, a former financial consultant and current university-level finance professor, sets out to expand off the new paradigm of the economic and financial concepts introduced in his previous book, The Necessity of Finance; explore the most important lessons in economics and finance; provide a platform for economic and financial entities to be able to better manage their wealth; and create a foundation for future research studies on these subjects. Dr. Criniti breaks down complex terminology and scholastic discoveries in economics and finance into layman's terms, allowing readers of all levels of economic and financial acumen to put his powerful wealth management principles into practice. Starting with an introductory overview, moving forward to present the basic terminology necessary to understand the structure of this work, presenting in the process an elaboration on its scientific aspects, The Most Important Lessons in Economics and Finance will equip a variety of practitioners and students of these two sciences with vital information and a clear approach for continued study. This book is organized into a variety of categories of wealth management principles including: business, charity, debt, diversification, economics, ethics, financial psychology, health, human resources, international finance, investing, marketing, money, personal finance, planning, and saving.Dr. Criniti's lessons evolved from his many years of various experiences in the financial field. Aiming for objectivity, he links his practical knowledge to the works of leading historical and contemporary economic and financial scholars, producing a work that stands as one of the most accessible and comprehensive collections of wealth management principles in publication. Mastering wealth management skills takes time and patience. With The Most Important Lessons in Economics and Finance, Dr. Criniti provides a foundation for this most essential task.
Criniti Publishing, 9780988459526, 290pp.
Publication Date: January 11, 2014
About the Author
Dr. Anthony M. Criniti IV holds a PhD in applied management and decision sciences, with a concentration in finance, from Walden University. A native of Philadelphia, he earned his BBA at The George Washington University and a master of science in financial services from The American College, where he also obtained designations, including Chartered Financial Consultant (CHFC), Chartered Life Underwriter (CLU), Registered Executive Benefit Consultant (REBC), and Registered Health Underwriter (RHU). He holds Pennsylvania licenses in fixed annuities, life and health insurance, and real estate. Dr. Criniti's professional experience includes work in the field of mutual funds for The Vanguard Group as an investment and a retirement specialist, as a financial planner for several hundred clients, and as a real estate developer. Dr. Criniti is a professor at several universities and an active investor in various marketplaces. He has traveled around the world studying various aspects of finance. Finally, he is also the author of the acclaimed finance book, The Necessity of Finance.