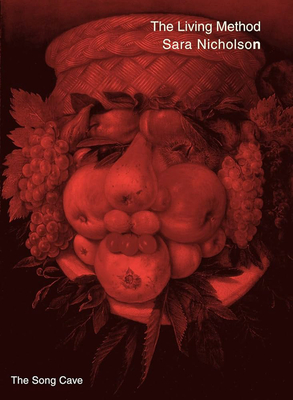 The Living Method
Paperback

* Individual store prices may vary.
Description
Poetry. The poems in Sara Nicholson's THE LIVING METHOD imaginatively grasp the raw materials of nature, calling the reader to the "outer limits of the dark," where one notices the music of the woods and gardens while searching for "the youngest photo of the night." These poems explore and create various orders of images, a mysterious taxonomy of words and scraps of phrases that revive what in lesser hands would remain dying metaphors. Here, in her debut collection, a new and singular poetic logic reveals itself, growing tenderly out of the "droning chamber" of the poet's throat, through Google image searches, and from the rich soil of archaic landscapes.

"Chilean filmmaker Alejandro Jodorowsky claimed, 'Most directors make films with their eyes; I make films with my testicles.' Sara Nicholson makes poems with her hippocampus, that somewhat mysterious part of the brain that deals with memory and spatial recognition in ways we have yet to understand conclusively. Her poems speak to us directly from somewhere in there: 'A queen will dwell in the radius and eat it//but the circumference/will answer without a refrain.' We can hear a voice at once speaking to us while also thinking aloud to itself. These are poems of inquiry without the presumptuous rhetoric, wonder without the rhapsodic glitz, formal control without the self-congratulatory show tune medley. I've read very few poets of my generation who have so decidedly shrugged off pretense and posturing. She's pure hippocampus, navigating the external world from deep within the internal. We hear a voice speaking to us, but that voice comes from a crowded place, amid a thousand thoughts we do not hear. Her poems have no angle. They touch on the occult and hermetic but do not wear them as a shroud. They reach out from the radius into the radiant." Matthew Henriksen.
Song Cave, 9780988464346, 92pp.
Publication Date: April 1, 2014
or
Not Currently Available for Direct Purchase