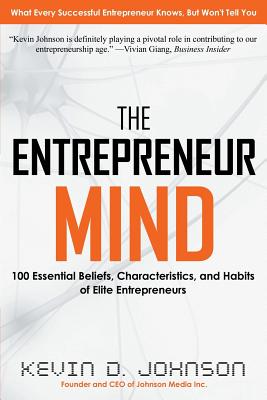 The Entrepreneur Mind (Paperback)
100 Essential Beliefs, Characteristics, and Habits of Elite Entrepreneurs
Johnson Media Inc., 9780988479708, 268pp.
Publication Date: January 22, 2013
* Individual store prices may vary.
Description
To achieve unimaginable business success and financial wealth-to reach the upper echelons of entrepreneurs, where you'll find Mark Zuckerberg of Facebook, Sara Blakely of Spanx, Mark Pincus of Zynga, Kevin Plank of Under Armour, and many others-you have to change the way you think. In other words, you must develop the Entrepreneur Mind, a way of thinking that comes from learning the vital lessons of the best entrepreneurs. In a praiseworthy effort to distill some of the most important lessons of entrepreneurship, Kevin D. Johnson, president of multimillion-dollar company Johnson Media Inc. and a serial entrepreneur for several years, shares the essential beliefs, characteristics, and habits of elite entrepreneurs. Through the conviction of his own personal experiences, which include a life-changing visit to Harvard Business School, and the compelling stories of modern-day business tycoons, Johnson transforms an oftentimes complex topic into a lucid and accessible one. In this riveting book written for new and veteran entrepreneurs, Johnson identifies one hundred key lessons that every entrepreneur must learn in seven areas: Strategy, Education, People, Finance, Marketing and Sales, Leadership, and Motivation. Lessons include how to think big, who makes the best business partners, what captivates investors, when to abandon a business idea, where to avoid opening a business bank account, and why too much formal education can hinder your entrepreneurial growth. Smart and insightful, The Entrepreneur Mind: 100 Essential Beliefs, Characteristics, and Habits of Elite Entrepreneurs is the ultimate primer on how to think like an entrepreneur. ADVANCE PRAISE "Kevin Johnson is definitely playing a pivotal role in contributing to our entrepreneurship age." -Vivian Giang, reporter, Business Insider "Kevin Johnson has written a phenomenal book that will inspire readers to become high-achieving entrepreneurs. He exemplifies and articulates the great opportunity, fulfillment, and value that pursuing entrepreneurship brings. Well done." -Andrew Young, former mayor of Atlanta, U.S. congressman, and U.S. ambassador to the United Nations "This book is an important resource for current and aspiring entrepreneurs." -Eric Overby, Ph.D., assistant professor, Scheller College of Business, Georgia Institute of Technology "Kevin stitches together actual life scenarios and outcomes that every entrepreneur needs to understand. This book doesn't live in the clouds like some others do. Real life for real business builders... read it " -Devon Wijesinghe, serial entrepreneur; chairman, Insightpool; director, Atlanta Technology Angels "Kevin has just given us the next best how-to handbook on starting, building, and sustaining your own business. It is written with such clarity and with commonsense lessons that truly hit the mark, turning complex concepts into simple applications." -Kent Matlock, CEO, Matlock Advertising and Public Relations "In this commendable work, Kevin has emboldened a movement very dear to my heart: making entrepreneurship accessible and a viable option for millions of young people around the world." -Scott Gerber, founder, Young Entrepreneur Council; author, Never Get a "Real" Job "Wow Within minutes of reading this book, the business strategies and secrets that Kevin shared more than paid for the price. I highly recommend this book to entrepreneurial newbies, seasoned pros, and everybody in between. Buy it, use it, and watch your business grow " -Shaun King, founder, HopeMob "Kevin's book is thought-provoking and insightful. It is full of rich ideas on how to develop an entrepreneurial mindset and how to build a business the right way, avoiding the issues that have caused others to stumble." -Christopher Hanks, director of Entrepreneurship Program, University of Georgia.