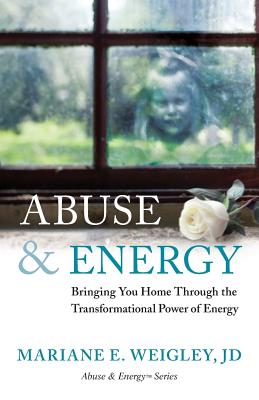 Abuse & Energy
Bringing You Home Through the Transformational Power of Energy
Paperback

* Individual store prices may vary.
Description
The first of the three-book series ƒƒ'ƒƒ''ƒƒƒ''ƒ'''ƒƒ'ƒƒ'''ƒƒ''ƒ''"ƒƒ'ƒƒ''ƒƒƒ''ƒ'''ƒƒ'ƒƒ'''ƒƒ''ƒ''€ƒƒ'ƒƒ''ƒƒƒ''ƒ'''ƒƒ'ƒƒ'''ƒƒ''ƒ''" Abuse & Energyƒƒ'ƒƒ''ƒƒƒ''ƒ'''ƒƒ'ƒƒ'''ƒƒ''ƒ'' ƒƒ'ƒƒ''ƒƒƒ''ƒ'''ƒƒ'ƒƒ'''ƒƒ''ƒ''"ƒƒ'ƒƒ''ƒƒƒ''ƒ'''ƒƒ'ƒƒ'''ƒƒ''ƒ'' Series
Empowerment begins when the reaction ends
A compelling journey from Abuse to Energy, Mariane Weigley takes her readers to a greater understanding of the essential idea You Are More Than You Think You Are.
Seeing life and the world from a new perspective can allow the awareness and create the opportunity to change from the inside.
This book advances the premise that we are energy It shares the very personal life stories of emotional abuse, allowing the reader to apply concepts bringing a greater understanding of their own lives.
Individuals, therapists, psychologists, women's group leaders discover:
ƒƒ'ƒƒ''ƒƒƒ''ƒ'''ƒƒ'ƒƒ'''ƒƒ''ƒ'' ƒƒ'ƒƒ''ƒƒƒ''ƒ'''ƒƒ'ƒƒ'''ƒƒ''ƒ''€ƒƒ'ƒƒ''ƒƒƒ''ƒ'''ƒƒ'ƒƒ'''ƒƒ''ƒ'' How we react energetically to emotional abuse and the role dissociation plays.
ƒƒ'ƒƒ''ƒƒƒ''ƒ'''ƒƒ'ƒƒ'''ƒƒ''ƒ'' ƒƒ'ƒƒ''ƒƒƒ''ƒ'''ƒƒ'ƒƒ'''ƒƒ''ƒ''€ƒƒ'ƒƒ''ƒƒƒ''ƒ'''ƒƒ'ƒƒ'''ƒƒ''ƒ'' How the Rules of Energy Flow impact life.
ƒƒ'ƒƒ''ƒƒƒ''ƒ'''ƒƒ'ƒƒ'''ƒƒ''ƒ'' ƒƒ'ƒƒ''ƒƒƒ''ƒ'''ƒƒ'ƒƒ'''ƒƒ''ƒ''€ƒƒ'ƒƒ''ƒƒƒ''ƒ'''ƒƒ'ƒƒ'''ƒƒ''ƒ'' Why it's important to trust your intuition.
ƒƒ'ƒƒ''ƒƒƒ''ƒ'''ƒƒ'ƒƒ'''ƒƒ''ƒ'' ƒƒ'ƒƒ''ƒƒƒ''ƒ'''ƒƒ'ƒƒ'''ƒƒ''ƒ''€ƒƒ'ƒƒ''ƒƒƒ''ƒ'''ƒƒ'ƒƒ'''ƒƒ''ƒ'' How the Process of Energetic Change works.
ƒƒ'ƒƒ''ƒƒƒ''ƒ'''ƒƒ'ƒƒ'''ƒƒ''ƒ'' ƒƒ'ƒƒ''ƒƒƒ''ƒ'''ƒƒ'ƒƒ'''ƒƒ''ƒ''€ƒƒ'ƒƒ''ƒƒƒ''ƒ'''ƒƒ'ƒƒ'''ƒƒ''ƒ'' Why energy can be the problem and also the solution.
ƒƒ'ƒƒ''ƒƒƒ''ƒ'''ƒƒ'ƒƒ'''ƒƒ''ƒ'' ƒƒ'ƒƒ''ƒƒƒ''ƒ'''ƒƒ'ƒƒ'''ƒƒ''ƒ''€ƒƒ'ƒƒ''ƒƒƒ''ƒ'''ƒƒ'ƒƒ'''ƒƒ''ƒ'' How you can both lose and then retrieve pieces of your soul.
Why should you care? Because everything is about energy and that matters
All three books in the Abuse & Energyƒƒ'ƒƒ''ƒƒƒ''ƒ'''ƒƒ'ƒƒ'''ƒƒ''ƒ'' ƒƒ'ƒƒ''ƒƒƒ''ƒ'''ƒƒ'ƒƒ'''ƒƒ''ƒ''"ƒƒ'ƒƒ''ƒƒƒ''ƒ'''ƒƒ'ƒƒ'''ƒƒ''ƒ'' Series are part of the larger subject of Understanding Yourself as Energy. They are also part of the Rise of the Individual. Within the three books in the Series, Mariane Weigley uses her personal story to support why she is qualified to give others the Information, Validation, and Support (I.V.S.) she does. Her teachings, both writing and speaking, offer hope for one's soul. They share her journey through narrative and individual storiesƒƒ'ƒƒ''ƒƒƒ''ƒ'''ƒƒ'ƒƒ'''ƒƒ''ƒ'']ƒƒ'ƒƒ''ƒƒƒ''ƒ'''ƒƒ'ƒƒ'''ƒƒ''ƒ''€ƒƒ'ƒƒ''ƒƒƒ''ƒ'''ƒƒ'ƒƒ'''ƒƒ''ƒ'']but also have "call out" sections for the reader to understand the learning of that section and its application to their own lives. So, it is a SELF-HELP with the story of the real journey of the author. Her work as an attorney and now as a speaker on these issues bring the credibility and value to readers, wherever they are on their own journey.
Weigley Publications, Inc, 9780988499003, 224pp.
Publication Date: May 15, 2016
or
Not Currently Available for Direct Purchase