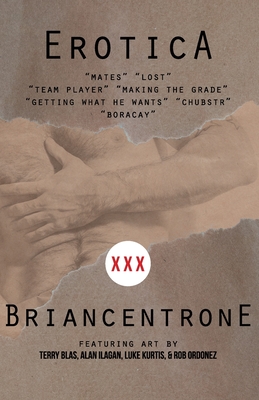 Erotica (Paperback)
New Lit Salon Press, 9780988551251, 126pp.
Publication Date: July 17, 2014
* Individual store prices may vary.
Description
Erotica by Brian Centrone features seven stories for every sin. Join Centrone on a jaunt across the pond in "Mates," travel with him on the high seas of "Lost," sneak into the locker room together for "Team Player," then slip into a parked car for "Making the Grade." These classic collected tales will leave you panting for more, and Centrone delivers with two new stories. Visit a frat house in "Getting What He Wants," and see who's looking for fun on "Chubstr," before reminiscing about escaping to the island of "Boracay." But don't worry if you forgot to take pictures. With artwork by Terry Blas, Alan Ilagan, luke kurtis, and Rob Ordonez you'll have plenty of visuals to remember this adventure for a lifetime.
About the Author
Brian Centrone is the author of the mini ebook collection I Voted for Biddy Schumacher: Mismatched Tales from the Mind of Brian Centrone and the debut novel An Ordinary Boy. His stories and poems have been featured in college newspapers and literary and arts journals. Four of his One-Act plays have been produced for the stage as part of the National Endowment for the Arts' The Big Read program. He teaches writing in New York. Visit Brian at www.briancentrone.com for more info. Follow him on Twitter @briancentrone.