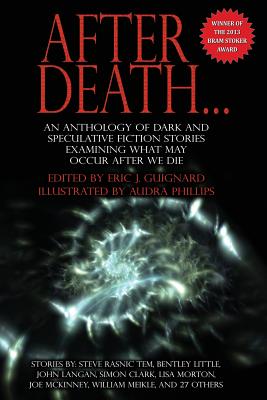 After Death
Paperback

* Individual store prices may vary.
Description
Death. Who has not considered their own mortality and wondered at what awaits, once our frail human shell expires? What occurs after the heart stops beating, after the last breath is drawn, after life as we know it terminates?
Does our spirit remain on Earth while the mortal body rots? Do remnants of our soul transcend to a celestial Heaven or sink to Hell's torment? Are we offered choices in an individualized afterlife? Can we die again in the hereafter? Is life merely a cosmic joke, or is it an experiment for something greater?
Included within this critically acclaimed anthology are answers to these queries alongside tales and suppositions relating from traditional ghosts to the afterlife of e-coli. Explore the afterworld of an Australian cowboy. Discover what the white light really means to the recently departed. Consider the impact of modern, or future, technology on the dead. Follow the karmic path of reincarnation. Travel from the 999th level of Fengdu's Hell to the gates of Robot Heaven.
Enclosed are thirty-four all-new dark and speculative fiction stories, individually illustrated by Audra Phillips, and exploring the possibilities "after death."
TABLE OF CONTENTS:
Introduction by Eric J. Guignard
Someone to Remember by Andrew S. Williams
Boy, 7 by Alvaro Rodriguez
Sea of Trees by Edward M. Erdelac
The Last Moments Before Bed by Steve Rasnic Tem
The Resurrection Policy by Lisa Morton
High Places by John M. Floyd
Circling the Stones at Fulcrum's Low by Kelda Crich
I Will Remain by David Steffen Tree of Life by Aaron J. French
The Reckless Alternative by Sanford Allen & Josh Rountree
The Thousandth Hell by Brad C. Hodson
Mall Rats by James S. Dorr
Afterword by Ray Cluley
Like a Bat out of Hell by Jonathan Shipley
The Overlander by Jacob Edwards
Forever by John Palisano
My Father Knew Douglas MacArthur by Bentley Little
Robot Heaven by Jamie Lackey
Beyond the Veil by Robert B. Marcus, Jr.
Prisoner of Peace by David Tallerman
A Feast of Meat and Mead by Christine Morgan
Be Quiet At The Back by William Meikle
Cages by Peter Giglio
Hammerhead by Simon Clark
Marvel at the Face of Forever by Kelly Dunn
The Unfinished Lunch by Trevor Denyer
I Was The Walrus by Steve Cameron
The Devil's Backbone by Larry Hodges
The Death of E. Coli by Benjamin Kane Ethridge
Final Testament of a Weapons Engineer by Emily C. Skaftun
Acclimation Package by Joe McKinney
Hellevator by Josh Strnad
In and Out the Window by Allan Izen With Max Barry in the Nearer Precincts by John Langan
Dark Moon Books, 9780988556928, 332pp.
Publication Date: April 5, 2013