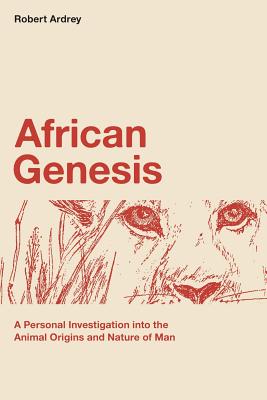 African Genesis
A Personal Investigation into the Animal Origins and Nature of Man
Paperback

* Individual store prices may vary.
Description
In 1955 on a visit to South Africa, Robert Ardrey became aware of the growing evidence that man had evolved on the African continent from carnivorous, predatory stock, who had also, long before man, achieved the use of weapons. A dramatist, Ardrey's interest in the African discoveries sprang less from purely scientific grounds than from the radical new light they cast on the eternal question: Why do we behave as we do? Are we naturally inclined towards war and weapons? From 1955 to 1961, Ardrey commuted between the museums and libraries and laboratories of the North, and the games reserves and fossil beds of Africa trying to answer that question. Eventually, his investigation expanded to include nationalism and patriotism, private property and social order, hierarchy and status-seeking, even conscience. All revealed roots in our most ancient animal beginnings and parallels in primate societies. African Genesis is at once the story of an unprecedented personal search and a story of man that had never before been told. It is a shocking book in that it challenges assumptions of human uniqueness that color every segment of modern thought and every aspect of our daily life. While evolutionary science has advanced markedly since Ardrey's times, his insights on human behavior have a timeless quality and African Genesis remains a classic reference for anyone exploring life's biggest questions. Praise for the 1961 edition: "It is fate and fortune of some books to mark or make a turning point in science and culture. This I believe African Genesis will do." Dr Harlow Shapley, Harvard University "The most enjoyable and stimulating book on the evolution of man that has been published for some time." The Nation "What this sensational book presents is a new and radical interpretation of human behavior. Since Ardrey has written it with excitement, clarity and style, the book will undoubtedly be widely read and cause widespread controversy. But African Genesis also deserves the most serious attention on the part of scientists as well as laymen." Dr Kenneth Oakley, Leading British Anthropologist, Senior Principal Scientific Officer, British Museum "Mr Ardrey's African Genesis is a fascinating drama played on a very broad and deep stage of space, time, biological evolution and ideas. The theme develops around man's striving to collect evidence and to understand the relational orders and timed sequences of living organisms. The search is for rational light on the true place of man himself in these biotic orders, and in the vast sweeps of the controlling environments. In this high drama the characters enter, leave relics and artifacts, act their roles as species, express their views and then exit. Among the characters are men of prehistory, nonhuman primates and the searching scientists themselves. The latter quarrel and dispute, cooperate and agree, strive for status and retreat from controversy. They are 'humans' as portrayed skillfully by Ardrey. Nevertheless, they contribute to the slowly advancing understanding of man in his living world or to what Ardrey describes as a revolution of biological conceptions." C. R. Carpenter, Penn State University "This quarrel about the innate nature of man began outside the gates of Eden, was continued by Darwin and Wallace and now looms menacingly across the threshold of the United Nations. Mr Ardrey has peered into our inner human darkness with wisdom gained from discoveries of natural history." Loren Eiseley, Benjamin Franklin Professor of Anthropology and History of Science, University of Pennsylvania.
Storydesign Ltd, 9780988604308, 328pp.
Publication Date: September 2, 2014