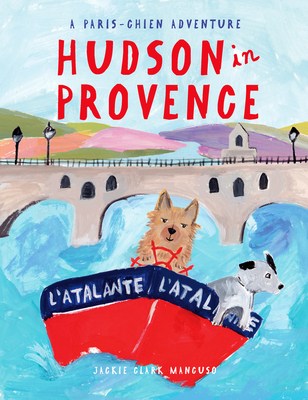 Hudson in Provence (A Paris-Chien Adventure) (Hardcover)
La Librairie Parisienne, 9780988605848, 32pp.
Publication Date: May 15, 2015
* Individual store prices may vary.
Description
It's August! Hudson, like all Parisians, is going on vacation. And what better place than the enchanting south of France, where he discovers the country dogs have jobs. A believer in the "when in Rome, do as the Romans do" school of travel, Hudson immerses himself in Provençal culture. While this city dog is no good at herding sheep, truffle hunting and riding in the Tour de France, he eventually finds his true talent!.
About the Author
Jackie Clark Mancuso is the author and illustrator of a picture book series about Hudson, an American dog living in Paris. The books have been praised by Kirkus Reviews and Publishers Weekly for their humor and originality, featured in museum bookstores to introduce children to art, and singled out by librarians and teachers for their positive role models and educational value in early language learning. Like many children's classics, the books are as much appreciated by adults as by children. Visit jackiemancuso.com and @jackieclarkmancuso on Instagram.
Praise For Hudson in Provence (A Paris-Chien Adventure)…
"Jackie Clark Mancuso takes our sweet pup Hudson on a trip full of color in a fun, crude style with gouache, which makes us think of Maira Kalman."  —Cleveland Plain Dealer
"Charming and adorable Hudson is back, this time vacationing in the south of France, having a great doggie time. You will wish you were there frolicking with him."  —Delia Ephron, Siracusa
"Hudson finds the magic of Provence in his ability to paint portraits of the canines."  —PBS Reading Rockets
"Colorful and engaging gouache illustrations, filled with local details and French vocabulary, offer lots for young readers to pore over."  —Common Sense Media
"At their heart, Jackie's books are about navigating new experiences, and making friends—something all children can relate to."  —The Little Crooked Cottage
"Hudson is a winning narrator."  —Ann Mah, Mastering the Art of French Eating
"This lovely picture book is great for exposing kids to a foreign language!"  —Pragmatic Mom
"The author paints a diverse picture of Paris, with people of different ethnicities and cultures, selling and buying delicious and fresh foods at the open market."  —Kids Books Without Borders
"I love the positive message…. The artwork perfectly captures dreamy lavender fields, majestic mountains, sunny beaches, and charming villages."  —Hudson & Seine
"Hudson in Provence was a very funny and entertaining book... My favourite part was when Hudson was trying to herd the sheep and they just stared at him. This was a follow up to the Paris-Chien book written by the same author and it did not disappoint."  —Isabelle Cullingford, age 9, French Entrée