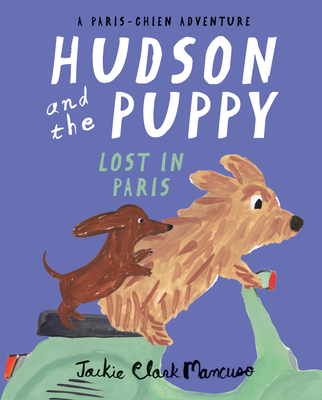 Hudson and the Puppy (Hardcover)
Lost in Paris (A Paris-Chien Adventure)
La Librairie Parisienne, 9780988605855, 32pp.
Publication Date: April 7, 2018
* Individual store prices may vary.
Description
An expatriate American terrier living in Paris encounters a dachshund puppy who appears to be lost. Our compassionate hero takes the adorable little dog on a search of bustling Paris neighborhoods—first on foot, then by scooter and boat—trying to find his home. When Hudson discovers the puppy is homeless, he takes on the responsibility of finding a home for his new friend.

This sweet, fun tale of empathy and friendship has lots of colorful Paris scenery, French vocabulary, and includes a "petit dictionnaire" of French words and phrases used in the story.
About the Author
Jackie Clark Mancuso is the author and illustrator of Paris-Chien: Adventures of an Expat Dog, Hudson in Provence, and Hudson and the Puppy: Lost in Paris, a series of children's picture books about an American terrier living in Paris. Jackie loves to travel and visits her French friends, human and canine, whenever she can. Visit her online at JackieMancuso.com and on instagram @jackieclarkmancuso
Praise For Hudson and the Puppy: Lost in Paris (A Paris-Chien Adventure)…
"Beautiful, full-page gouache paintings vividly capture the bustle of Paris . . . Cinematic references (Jacques Tati, Charlie Chaplin) will appeal to cinephiles . . . A glossary offers pronunciations and definitions for French words . . . Absolutely delightful, especially for dog lovers and Francophiles."  —Kirkus Reviews
"Whether they're whizzing by on a scooter, with fur and ears flying in the wind, or walking slowly with slumped shoulders and lowered heads, we always know exactly how they feel. Kids will delight in seeing the newly adopted puppy finally smiling on the last page." —Regan McMahon, Common Sense Media
"My 4-year-old and I love this series about Hudson . . . these are wonderful books for your budding Francophile."  —Ann Mah, author, The Lost Vintage
"It's Hudson to the rescue in this third adventure featuring the charming and loveable Norwich terrier with the perky ears." —Monica Kulling, award-winning children's book author, Mary Anning's Curiosity
"Hudson is so relatable for kids."  —@picturebookplaydate
"An utterly charming and delightfully entertaining picture book for children ages 5-7, Hudson and the Puppy: Lost in Paris will prove to be an immediate and enduringly popular addition to family, preschool, elementary school, and community library collections." —www.midwestbookreview.com
"Adults will enjoy this unusual picture book." —The Baytown Sun, Baytown, TX