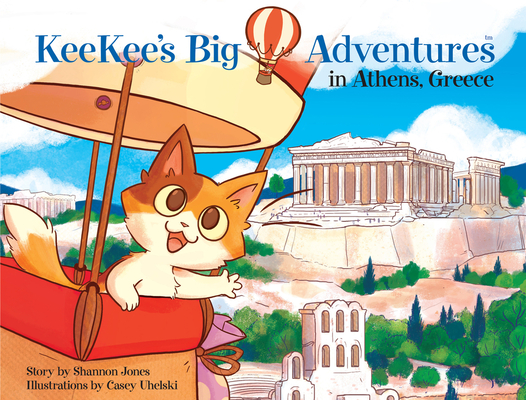 KeeKee's Big Adventures in Athens, Greece (Hardcover)
Calithumpian Press, 9780988634121, 40pp.
Publication Date: October 29, 2014
* Individual store prices may vary.
Description
Opa! It's Athens, Greece! KeeKee, the world traveling kitty, lands for another exciting adventure. Join KeeKee as she explores one of the oldest cities in the world. Children and adults will delight in discovering what makes Athens a must-visit destination, from its history and culture to food and hospitality. KeeKee's latest adventure includes a kid-friendly pronunciation guide and glossary in the back of the book along with a charmingly illustrated map of Athens. Entertaining and educational, KeeKee's adventures will spark curiosity and inspire appreciation for our great big wonderful world!
About the Author
Shannon Jones is a travel enthusiast with a background in marketing. She lives in Alexandria, Virginia. Casey Uhelski is a children's illustrator who graduated with honors from the Savannah College of Art and Design. She lives in Chattanooga, Tennessee. Their previous books are KeeKee's Big Adventures in Paris, France and KeeKee's Big Adventures in Rome, Italy.
Praise For KeeKee's Big Adventures in Athens, Greece…
"Adorable KeeKee approaches Athens, Greece, with a researcher's fervor and child's innocent curiosity. This clever kitty introduces icons of the country to eager readers with funny dialogue, approachable factoids, and images that will amuse and delight."  —Foreword Reviews

"KeeKee books are smart, fun, educational and imaginative ,and loaded with beautiful illustrations that really appeal to children—what more can you ask for in a children's book today?"  —Cattail Chronicles
"A lovely picture book. Excellent for teaching young children about other countries in a fun way and piquing their curiosity about the world."  —Gone with the Family: Adventures in Family Travel
"A smashingly great book! Gorgeous, fabulous, and so funny!"  —Leslie McGuirk, author, Lucky Tucker