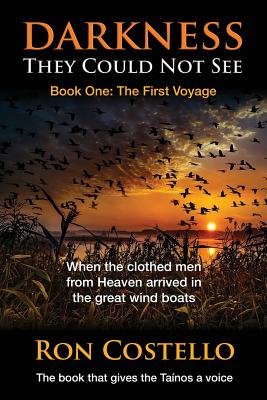 Darkness They Could Not See (Paperback)
A Book That Gives the Taínos a Voice
Gold Sun Publishing, 9780988654969, 402pp.
Publication Date: April 10, 2018
* Individual store prices may vary.
Description
The novel, Darkness They Could Not See, is about Christopher Columbus's first voyage to the "West Indies." It is historical fiction in epic proportions. Arguably, there is no greater controversy in history than Christopher Columbus.
Looking back 526 plus years, the opinions are many. Some say he was a murderer and rapist. Others say he was a bold and brilliant seaman, perhaps the best of his day, and that he paved the way to sail west. Many -- especially the descendants of the indigenous people of the Caribbean -- say that he became a genocidal oppressor who destroyed an entire population of Ta nos.
His defenders point out that he was merely doing the business of the time, and no guiltier than the slave owners Jefferson or Washington. Still others say he never set foot in North America and besides, he wasn't the first to explore the Western Hemisphere.
Darkness They Could Not See confronts these issues head on. It wasn't an easy topic to broach. Google Christopher Columbus and over 44 million results pop up. A YouTube search will result in nearly 400,000 videos and hundreds of Columbus books are available on Amazon.
So what makes this one different?
Darkness They Could Not See doesn't lecture. Instead, it puts its readers into the story, and suddenly the history comes alive. In Darkness, the teachers are the characters telling the story.
Pedro the cabin boy, who sneaked onto the Santa Maria to steal food, and didn't realize both the genius and the dark side of his new boss
The Ta no Bloodwoman Higuemota -- daughter of the Jaragua cacique, Anacaona -- who falls in love with the cabin boy
And the Admiral of the oceans, passionately driven by an inner voice despite what everyone around him, including his officers and crew, said
What makes this book different is this: the author takes 'what happened' and builds it into a story -- a story that shines a spotlight on history. A story you will long remember.