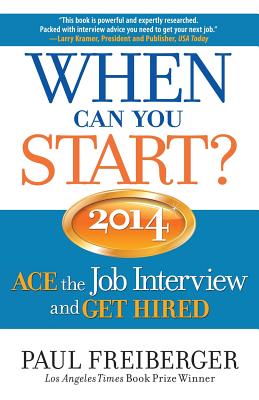 When Can You Start?
Ace the Job Interview and Get Hired
Paperback

* Individual store prices may vary.
Other Editions of This Title:
Paperback (3/1/2013)
Paperback (12/5/2017)
Paperback (4/7/2015)
Description
The job interview in your job search. It is the make-or-break moment that can change your life forever. Job interviews present the key step in the job search process and help you get hired. Yet few people know how to prepare for this all-important step while job hunting. As president of Shimmering Resumes and former head of corporate communications for McKinsey & Company, Paul Freiberger knows what it takes to give a knock-their-socks-off interview and win the job. A Los Angeles Times award-winning author, Freiberger offers a clear, entertaining guide with proven tools and tips through every step in the interview process, from the best ways to research industries to how to answer the essential questions. You will learn about:
- Job Interview Questions and Answers
- The Toughest Job Interview Questions
- Not Telling the Interviewer About Your Weaknesses
- Answering Trick and Oddball Questions
- Mastering Phone, Panel, and one-on-one interviews
- Devising the Best Questions
- Gaining Confidence with Job Interview Preparation
- Avoiding Job Interview Mistakes
- Salary Negotiation Tips and Strategies With the right preparation, you can walk into the interview with a major advantage over the competition in even the toughest job markets. You can convert "We'll be in touch" into "When can you start?" And this book will show you how. Editorial Reviews "This book is powerful and expertly researched. Packed with interview advice you need to get your next job." - Larry Kramer, President and Publisher, USA Today The most exhaustive, best researched book about job interviewing, filled with insights and research. - Jean-Louis Gass e, General Partner, Allegis Capital Freiberger delivers a fun and informative read. You will get a job a lot sooner if you read this book. Perfect for new grads at the beginning of their careers and powerful ammunition for the rest of us. - Guy Kawasaki, author of APE: Author, Publisher, Entrepreneur, and former chief evangelist of Apple Highly useful to anyone facing an important job interview, especially if they haven't been practicing for a while. Practical and well-researched, with extensive and realistic examples. This will stand the test of time. - Marc Singer, Director, McKinsey & Company There are gems of wisdom packed into the sections on how to answer behavioral interview questions, how to succeed in a panel interview, and how to anticipate sensitive and challenging questions. The principles and practices discussed in this book will help the job seeker turn the interview from an interrogation into a conversation. - Marcia G. Rhodes, WorldatWork Director
Paul Freiberger, 9780988702844, 262pp.
Publication Date: November 19, 2013