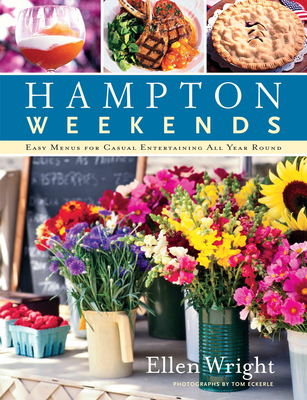 Hampton Weekends (Paperback)
Easy Menus for Casual Entertaining All Year Round
East End Press, 9780988767300, 320pp.
Publication Date: June 10, 2013
* Individual store prices may vary.
Description
Who knew entertaining could be this easy? The allure of the Hamptons is revealed in this beautifully photographed book, which captures the sun, the sea, and the tastes of this exclusive resort area.   Beautiful entertaining is made easy in this wonderfully photographed full-color book, where anyone can spend the four seasons cooking and entertaining with Ellen Wright. Having spent many weekends and summers on the South Fork of Long Island, Wright shares a wealth of recipes and insights to make entertaining as simple, elegant, and delightful as possible. Complete meals for every occasion are carefully planned for ease of preparation. In spring. under a crab apple tree, enjoy a buttery asparagus quiche. After a day at the beach, transform summer's road-stand tomatoes into the ultimate gazpacho. Autumn is the time for sizzling potato pancakes with chunky applesauce, made at a farm just down the road. On the first chilly night of winter, spoon up a warming veal stew with button mushrooms. Ellen also shares a collection of irresistible desserts, quick side dishes, and refreshing salads, as well as ideas for one-of-a-kind table settings. After years of successful entertaining, Wright has developed a number of commonsense tips that shares with her readers. Including five basic principles:  Keep it simple-perfect a few dishes rather than try to dazzle with many Avoid last-minure panic-organize early and stick to your plan Mix and match-this applies to both guests and china Get guests to help-it helps to break the ice Stay caalm-don't worry iof the dish is burned, whiup up a little sauce or add some herbs In this new updated edition Ellen adds more valuable tips and suggestions. As well as, ideas for customizing the recipes to suit your guests special dietary needs. It is no wonder why Ellen Wright and her cooking continue to draw illustrious friends to her table. The recipes she offers are tried-and-true, and her invaluable adivce on entertaining allows hosts to enjoy the party as much as their guests.
About the Author
Ellen Wright is a well-known cook, artist, interior designer, and hostess. She worked extensively as an assistant to James Beard, and has two other books to her credit: AROUND THE TABLE: Easy Menus for Cozy Entertaining at Home (Harvard Common Press), and BIG SKY COOKING (Artisan).Tom Eckerle (photographer) has beena professional photographer for over 25 years. He has worked on more than 40 books, including Bobby Flay's Boy Meets Grill and Recipes1-2-3.