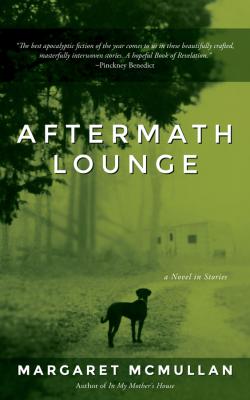 Aftermath Lounge (Paperback)
Calypso Editions, 9780988790360, 146pp.
Publication Date: March 1, 2015
* Individual store prices may vary.
Description
Fiction. AFTERMATH LOUNGE is a compelling tribute to the Gulf Coast in the wake of Hurricane Katrina. Resurrecting the place and its people alongside their heartaches and triumphs, Margaret McMullan creates a riveting mosaic that feeds our wish to understand what it means to be alive in this day and age.

"In AFTERMATH LOUNGE each short story, like a homing pigeon, returns to the Gulf Coast to explore how its people struggle with the ghost of Hurricane Katrina. With riveting prose, Margaret McMullan tracks the weblike connections of family and friends haunted by the storm from Pass Christian, Mississippi, to Chicago." William Ferris

"I love these stories. They're so smart, beautiful, true and so real that they seemed like part of my own history. I felt homesick in the best way, flooded with a kind of saddened joy. They snuffed the gimlet-eyed adult and brought to life again, for a while, the wondrous child." Brad Watson

"I like these new stories so much it's hard to know where to start. But a good place to begin would be... well, Place. She brings it to life like few writers can. You can almost feel the heavy air on your skin. As for her characters, they're three-dimensional people who are so real, you feel like they're in the room with you. She's got a great ear, a fine eye, and something else that you can't buy namely, a very large heart." Steve Yarbrough

"AFTERMATH LOUNGE is a beautiful, compelling collection, the emotions as powerfully charged as the winds of a hurricane. Margaret McMullan writes movingly about those living in and pulling themselves out of destruction and chaos and loss to salvage all they can of love and redemption. From the voices of orphaned children to the least likely man to don a Santa Claus suit, there are moments of devastation, comic relief and grace." Jill McCorkle

"How strange, that the best apocalyptic fiction of the year should come to us, not borne on the maelstrom of nuclear fire or horrific epidemic, but rather in this series of beautifully crafted and masterfully interwoven literary stories. In AFTERMATH, our humanity is not simply swept away by the fury and chaos of Katrina; rather, it is tested, sometimes broken, sometimes intensified, and ultimately renewed by the deluge. A hopeful Book of Revelation." Pinckney Benedict.
Praise For Aftermath Lounge…
"In Aftermath Lounge each short story, like a homing pigeon, returns to the Gulf Coast to explore how its people struggle with the ghost of Hurricane Katrina. With riveting prose, Margaret McMullan tracks the weblike connections of family and friends haunted by the storm from Pass Christian, Mississippi, to Chicago.
–William Ferris
The Storied South: Voices of Writers and Artists

"I love these stories. They're so smart, beautiful, true—and so real—that they seemed like part of my own history. I felt homesick in the best way, flooded with a kind of saddened joy. They snuffed the gimlet-eyed adult and brought to life again, for a while, the wondrous child."

—Brad Watson, Aliens in the Prime of Their Lives

"I like these new stories so much it's hard to know where to start. But a good place to begin would be . . . well, Place. She brings it to life like few writers can. You can almost feel the heavy air on your skin. As for her characters, they're three-dimensional people who are so real, you feel like they're in the room with you. She's got a great ear, a fine eye, and something else that you can't buy—namely, a very large heart."


"Aftermath Lounge is a beautiful, compelling collection, the emotions as powerfully charged as the winds of a hurricane. Margaret McMullan writes movingly about those living in and pulling themselves out of destruction and chaos and loss to salvage all they can of love and redemption. From the voices of orphaned children to the least likely man to don a Santa Claus suit, there are moments of devastation, comic relief and grace."

—Jill McCorkle, Life After Life—Steve Yarbrough, The Realm of Last Chances

"How strange, that the best apocalyptic fiction of the year should come to us, not borne on the maelstrom of nuclear fire or horrific epidemic, but rather in this series of beautifully crafted and masterfully interwoven literary stories. InAftermath, our humanity is not simply swept away by the fury and chaos of Katrina; rather, it is tested, sometimes broken, sometimes intensified, and ultimately renewed by the deluge. A hopeful Book of Revelation."

—Pinckney Benedict, Miracle Boy and Other Stories

or
Not Currently Available for Direct Purchase