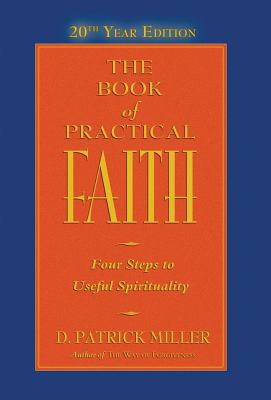 The Book of Practical Faith, 20th Year Edition (Hardcover)
Fearless Books, 9780988802483, 96pp.
Publication Date: March 2, 2015
* Individual store prices may vary.
or
Not Currently Available for Direct Purchase
Description
Is faith meant only for churchgoers? At a time when more and more people are identifying themselves as "spiritual but not religious," there is a need for a clear, non-dogmatic guide to finding one's own path of transformation. Originally published in 1995 and changing the lives of thousands ever since, this concise and eloquent volume offers a vision of a "practical faith" that will benefit anyone regardless of their religious (or irreligious) beliefs. In four lucid steps - Releasing Guilt, Gathering Trust, Practicing Patience, and Learning Transcendence - D. Patrick Miller reveals a path to greater peace, perseverance, and dedication in the midst of everyday life. NOW IN HARDBACK FOR THE FIRST TIME IN 20 YEARS. Selected for inclusion in READER'S CATALOG (2nd edition) as one of the best spiritual books in print "Grab your highlighter pen before you sit down with this book.. . I highlighted an average of one quote per page, a lifetime record. If you know someone who agonizes over spiritual skepticism, do both of you a favor: give Miller's extraordinary book as a present. This is a timeless work of wisdom, destined to become a classic." - ROSE ROSETREE, Pathways Magazine "Succinct and salutary... D. Patrick Miller's thoughtful treatment of faith clarifies why this spiritual practice is such an important part of the sacred adventure of life." - FREDERIC BRUSSAT, SpiritualityandPractice.com "This book offers a gentle, disciplined approach to growth with subtle insight and compassion. Miller names the habitual obstacles that keep us small and opens up a way to greater love, faith, and freedom." - J. RUTH GENDLER, The Book of Qualities This book has been taught in classes at Iyanla Vanzant's Inner Visions Institute for Spiritual Development.
Advertisement