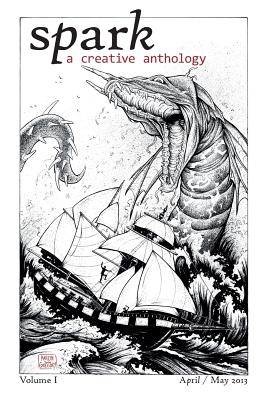 Spark
A Creative Anthology
Paperback

* Individual store prices may vary.
Description
A bold revival of the short story format, punctuated with classic and modern poetry forms, Spark: A Creative Anthology features the freshest work from a range of talented writers, from established professionals to newly-emerging authors and poets.
Contributors
Introduction by Traci L. Gourdine
Cover Art by Aaron John Gregory
Illustrations by Paul Pederson
Todd Walton, Going After Nathan
Margaret Dilloway, Ever Since I've Seen Your Face
Hunter Liguore, Momentary Forgiveness
Darrell Lindsey, tanka
George Wells, Last Rites
j.lewis, surgical mass
Linda G Hatton, Becoming
Katie Stephens, Faceless
Melana Plains, Not a Worry, My Lord
Alexis A. Hunter, By the Gun
D. Laserbeam, Five Hundred
Svetlana Kortchik, Forget Me Not
Hannah Weverka, Gingerbread Towns
Matt Lancaster, Old Age
Brian Reeves, Her Fruitful Shore
Valentina Cano, Image of a Treasure, as a Negative
Stone Showers, His Smile Fixed in Time
Kari Castor, Jael Stands Trial for Murder
Diana Fu, Confession
Scott Warrender, The Littleness of Susan Brauer
John Stocks, Vows
Peter Wood, The Fig Tree
Kaitlin Branch, One Cog Short of Paradise
Learn more about Volume I contributors and content at http: //SparkAnthology.org.
Empire & Great Jones Little Press, 9780988807211, 242pp.
Publication Date: April 2, 2013
or
Not Currently Available for Direct Purchase