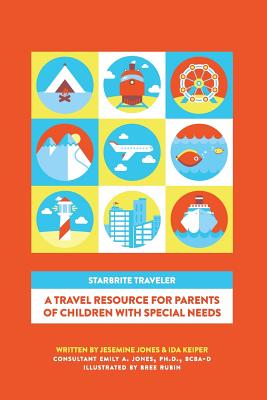 Starbrite Traveler: A Travel Resource for Parents of Children with Special Needs (Paperback)
A Travel Resource for Parents of Children with Special Needs
Starbrite Kids' Travel, LLC, 9780988838604, 270pp.
Publication Date: May 14, 2013
About the Author
Jesemine Jones and Ida Keiper are co-founders of the Starbrite Kids Program that specializes in planning travel for families with a child with special needs. They have 50 years of combined experience educating children with a broad spectrum of disabilities. Together, they have hosted workshops and participated in special needs conferences, published articles in magazines, as well as a series of articles online for Kidsville News! Ms. Jones earned a Masters of Social Work from Rutgers University as well as a B.A. in Special Education from Georgian Court University. She is currently a social worker in the New Jersey public school system. A former special education teacher, mental health therapist, lead counselor of a therapeutic foster care program, and team leader for an alternative high school for classified students, Ms. Jones has extensive experience working with children with special needs as well as their families. Ms. Jones lives in New Jersey with her husband and daughters. Ms. Keiper is dually certified as Teacher of the Handicapped and Elementary School Education. She earned a B.A. from Georgian Court University. Ms. Keiper, a highly qualified teacher educated children with disabilities for thirty years, wrote district curriculum for special education, coordinator of special education department in New Jersey public schools. Her compassion and professionalism earned her "Teacher of the Year." Over the years Ms. Keiper has fostered close relationships with her students and parents. Ms. Keiper lives in New Jersey with her husband and two sons. Emily A. Jones, Ph. D, BCBA-D, is an Assistant Professor in the Department of Psychology at Queens College. Dr. Jones teaches courses in applied behavior analysis and developmental disabilities. She also provides training and technical assistance to families, school districts, and other service providers to support children with developmental disabilities in inclusive settings. Dr. Jones's research involves the development and demonstration of interventions to address early emerging core deficits in young children with developmental disabilities such as autism and Down syndrome. Bree Rubin earned her MFA in Design and Technology from Parsons The New School for Design. She is an artist, illustrator, and designer living and working in New York City. Chris Church is a recent graduate of the University of Delaware with a BFA in visual communications.
Advertisement