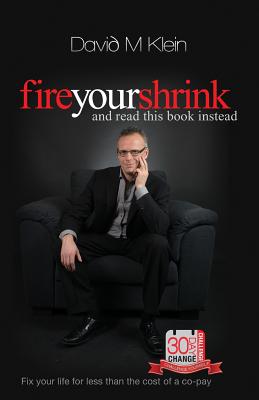 Fire Your Shrink and Read This Book Instead (Paperback)
Dmk Media Holdings Inc., 9780988882003, 222pp.
Publication Date: February 14, 2013
* Individual store prices may vary.
Description
Fire Your Shrink and Read this Book Instead is a call to action. It will empower you to fix your life and become a happier person without getting bogged down in psychoanalysis and jargon. The time to start changing your life is now. All you need is the right mindset and the comprehensive set of tools outlined in this book. Fire Your Shrink and Read This Book Instead offers practical, honest, true-to-life advice to help you make changes in your life and increase your happiness now. It provides you with a take-charge, action-based approach that will empower you to accept your past and move forward to a more fulfilled future. It will change the way you think, as well as your perception of the world and the people around you. Fire Your Shrink and Read this Book Instead will teach you how to: - Take control of your life - Break your bad habits - Stop sabotaging your relationships - Stop overanalyzing your life - Overcome the need to meet the expectations of others - Get rid of your negative traits such as being critical and cynical - Deal with the three cancers: blame, regret and hatred - Overcome fear of failure and fear of change - Make your own luck - Accept others-flaws and all - And much more Fire Your Shrink and Read this Book Instead works hand-in-hand with the Fire Your Shrink(TM) Online Community at www.davidmklein.com. They say it takes a village. The Fire Your Shrink(TM) Online Community is the first online social community designed to help people change their lives. In the Fire Your Shrink(TM) Community you will be able to: - Sign up for the free 30 Day Change Challenge(TM). Involve the Community in the changes you want to make in your life and receive their support - Inspire yourself by reading about the success stories of others - Receive the "Thought of the Day" to reinforce your new mindset - Watch videos to help you implement the changes you desire Join the Fire Your Shrink(TM) Community now On the web: www.davidmklein.com Twitter: @fireyourshrink Facebook: www.facebook.com/fireyourshrink.
About the Author
David M. Klein has an interesting and diverse background that has given him the experience and knowledge to help others deal with their problems. Mr. Klein grew up in Queens, New York in a normal middle class neighborhood. Money was always tight, but his parents provided all of the family necessities. His parents ingrained in him a strong work ethic. Starting at an early age, Mr. Klein worked on many different jobs to earn extra money, including flipping burgers, cutting lawns, driving a delivery truck, and working as a busboy. After attending college at Cooper Union in New York, where he earned a degree in electrical engineering, Mr. Klein moved to California where he worked for several years as an electrical engineer on the B-2 Bomber. At the end of the Cold War, Mr. Klein decided that a new career was necessary. He moved back to New York, where he attended New York University School of Law. Over the next 20+ years, Mr. Klein had a career as a technology and intellectual property lawyer. During this time, he was Partner at some of the world's most prestigious law firms. Mr. Klein has four children, who have been embattled over in his divorce, and who he misses greatly. His experiences in going through the divorce process have taught him many lessons, but most importantly have forced him to deal with the heartache of not being able to see his children and the injustice of having his character and reputation, which he spent his entire life building, destroyed in his community. When asked what qualifies him to write a book to help people change their lives, he answers "Life." Having faced bankruptcy and foreclosure, and having endured multiple careers, multiple job losses, a broken marriage, an acrimonious divorce, and other challenges, he is truly "The Life Coach who has Lived." For enjoyment, Mr. Klein loves to spend his time outdoors. On any weekend, you can find him hiking, kayaking, snowshoeing, climbing or otherwise enjoying his home state of New York.