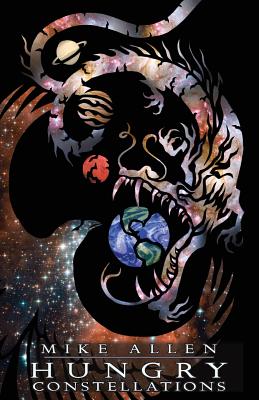 Hungry Constellations
Paperback

* Individual store prices may vary.
Description
"The poems in Mike Allen's latest book,
Hungry Constellations
, make a rowdy, red-tinged tapestry, representing twenty years of work from one of the major creative forces in this genre. These poems are physical, expansive, and revolutionary. They are grand and dystopic. They seethe with the conflict of opposites. Allen likes the destructive side of creation as much as the emergent side ... He writes about stars and legends and human beings contending with the monster-filled and glorious cosmos. He does it all with a relentless, energetic style, full of thought and invention." -
Star*Line
The mutants of Wonderland threaten to smash through the looking glass as the river of Time overflows its banks. The King of Cats and the Queen of Wolves dance a duet across eons, alternately foes and lovers. Monstrous constellations come to life in the sky, hungry for people-filled worlds.
Hungry Constellations, the newest poetry collection from Nebula Award finalist and three-time Rhysling Award winner Mike Allen, surveys two decades of mind-bending verse. Editor Dominik Parisien starts with poems drawn from Allen's previous book-length collections, Strange Wisdoms of the Dead (2006) and The Journey to Kailash (2008), then concludes the triptych with a selection of new and previously uncollected pieces, which author, poet and editor Amal El-Mohtar calls Allen's most ambitious work to date in her introduction. Cover artist Paula Arwen Friedlander (arwendesigns.net) adroitly illustrates the collection's Rhysling Award-nominated title poem.
Funded by a Kickstarter campaign, Hungry Constellations is Allen's first poetry collection available in digital format.
From the introduction by Amal El-Mohtar:
"Let me tell you about Mike Allen's poetry. This is a man who delights in breaking bodies: butchering, splitting, flaying, dismembering, then seeding landscapes with viscera until they too become bodies-bodies invaded, bodies stuffed, bodies contaminated. This is a man who carves words into and out of bodies, be they skin or sapphire, corpses or constellations. But somehow Allen skirts gore and clinical detachment both: there is a precision and an economy to his horror that's reminiscent of clockwork, architecture, astronomy. Imagine a clock with bone-gears, a skin-tree growing liver-fruit, a ship knifing a face into the moon, and you'll have something of a sense of what lies before you ... Subterranean in conception and galactic in execution, this is a book of monsters."
Praise for Mike Allen's poetry:
"Allen's is poetry for goths of all ages ... There is a long tradition of poetry dealing with the uncanny-think Keats' 'La Belle Dame Sans Merci' or Coleridge's 'The Rime of the Ancient Mariner'-and it's nice to see someone putting it to such use again. Allen's poems ... do a fine job of making the human scary and the scary human."
-The Philadelphia Inquirer
"Mike Allen pours everything he's got onto his poem-canvases. Mythologies, science-fiction scenarios, private memories and desires, and untestable ideas crowd and overlay one another upon the pages as if flung from an overloaded brush. Here is a vividly vertiginous collection of poems, all fun and mind-games."
-Fred Chappell
"Mike Allen is a poetic Shiva, whirling his thousand limbs to snatch gold from thin air and create these epics-in-miniature, each with its own metallic sheen."
-Catherynne M. Valente
"In the great tradition of Clark Ashton Smith, Ray Bradbury and Ursula K. Le Guin, Mike Allen shows us how science fiction poetry can do what all first-rate poetry does-rouse the imagination to venture into darkness and the unknown, there to discover old truths and new delights."
-R.H.W. Dillard.
Mythic Delirium Books, 9780988912427, 146pp.
Publication Date: July 18, 2014