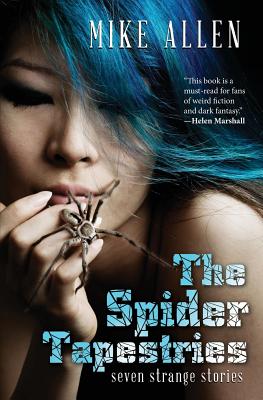 The Spider Tapestries
Seven Strange Stories
Paperback

* Individual store prices may vary.
Description
"Mike Allen will infect your subconscious with hallucinatory and alarming delight. This book is a must-read for fans of weird fiction and dark fantasy."
--Helen Marshall, World Fantasy Award-winning author of Gifts for the One who Comes After

"Surrender yourself to The Spider Tapestries and let these tales rewire your mind." --Scott Nicolay, World Fantasy Award-winning author of Do You Like to Look at Monsters?

The Spider Tapestries, Mike Allen's sophomore short story collection, takes a wrecking ball to genre boundaries, showcasing seven stories that mix transhuman noir, Lovecraftian horror, and surrealistic sorcery in an exploration of the further reaches of the Weird. Readers who savored the disorienting strangeness in Allen's debut collection Unseaming, a Shirley Jackson Award finalist and Amazon.com horror fiction bestseller, will find The Spider Tapestries begins where Unseaming left off.

As Nicole Kornher-Stace, author of Archivist Wasp, explains in her introduction, "Allen outdoes himself even further, borrowing and synthesizing across genres with gleeful abandon....This results in stories like 'Twa Sisters, ' with an atmosphere and setting as if Heironymous Bosch had been brought in as a consultant on Blade Runner. Or 'Sleepless, Burning Life, ' which, with simultaneous nods to steampunk and metaphysics, explores and upends the familiar trope of Mortal Chosen by the Gods."
Mythic Delirium Books, 9780988912465, 140pp.
Publication Date: March 1, 2016