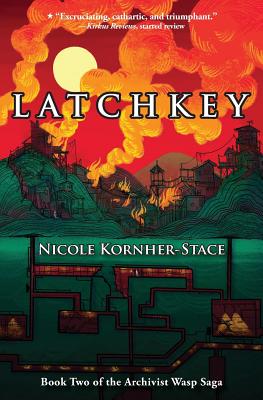 Latchkey
Book Two of the Archivist Wasp Saga
Paperback

* Individual store prices may vary.
Description
Kirkus Best YA Science Fiction of 2018
Tor.com Best Young Adult Science Fiction and Fantasy of 2018
Den of Geek Best Fiction Books of 2018
2018 Locus Recommended Reading List, Best Fantasy Novel
"Near-future science-fiction crimes bleed into dystopian horror centuries later in a wildly imaginative genre-hybrid sequel to Archivist Wasp...Excruciating, cathartic, and triumphant."
--Kirkus Reviews, starred review
"Archivist Wasp fans, prepare to be delighted...Teens who enjoy reading extended fight scenes and want immersion in an extraordinary world will enjoy Kornher-Stace's second act."
--School Library Journal, starred review
"Latchkey is a masterful example of sustained tension."
--Den of Geek
"I loved Archivist Wasp, and Latchkey surpasses it in every way."
-- Amal El-Mohtar, Hugo-award-winning author and critic
Isabel, once known as Wasp, has become leader of the fearsome upstarts, the teen girl acolytes who are adjusting to a new way of life after the overthrow of the sadistic Catchkeep-priest. They live in an uneasy alliance with the town of Sweetwater--an alliance that will be tested to its limits by the dual threats of ruthless raiders from the Waste and a deadly force from the Before-time that awaits in long-hidden tunnels.
Years ago Isabel befriended a nameless ghost, a supersoldier from the Before-time with incredible powers even after death, and their adventure together in the underworld gave her the strength and knowledge to change the brutal existence of the Catchkeep acolytes for the better. To save Sweetwater, Isabel will have to unlock the secrets of the twisted experimental program from centuries gone by that created the supersoldier and killed his friends: the Latchkey Project.
Latchkey continues the story begun in Kornher-Stace's widely acclaimed Archivist Wasp, an Andre Norton Award finalist that was selected by Kirkus Reviews as one of the Best Teen Books of 2015.
More Praise for Latchkey
"Nicole Kornher-Stace's Latchkey is a little like retracing a war veteran's scars with a scalpel and asking, 'So. Does this hurt more than the original?' It does, of course. Hurts good, hurts deep, this almost-familiar world that bleeds right into ours, where the only thing fiercer than ferocity is tenderness--though both talk equally as tough...Has there ever been such longing, fueled by such darkness and adrenaline? Has there ever been such satisfaction, and at such a cost?"
--C. S. E. Cooney, World Fantasy Award-winning author of Bone Swans
"Latchkey shows us the power of community and the worth, greater than diamonds, of courage. Cathartic, feminist, explosively imaginative and masterfully told, Kornher-Stace gives us a second-world fantasy that transports our minds while, time and again, it emotionally arrives."
--Carlos Hernandez, author of Sal and Gabi Break the Universe
"Fierce, blazing, brilliant. The mythic and brutal world of Nicole Kornher-Stace's Latchkey is so richly realized, you don't step into it, you fall."
--Jacqueline West, New York Times-bestselling author of The Books of Elsewhere
Cover art by Jacquelin de Leon, jacquelindeleon.com
Mythic Delirium Books, 9780988912489, 336pp.
Publication Date: July 10, 2018