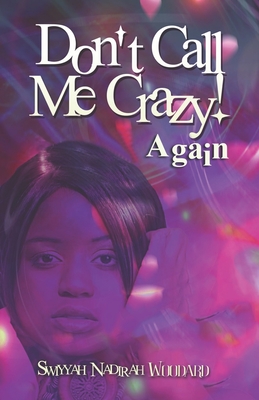 Don't Call Me Crazy! Again
Paperback

* Individual store prices may vary.
Description
She's in the middle of a breakdown. Desperate for happiness, will she at last find the light?
Anika Muhammad's whole life is wrapped up in her battle with paranoid schizophrenia. Shocked to discover her wedding never actually happened, she relapses into a chaotic world of inner turmoil. And she feels devastated and completely alone when she's institutionalized against her will.
As she undergoes treatment, Anika's troubled existence unravels further when her tormented fianc finds solace in the bottle and becomes distant. But when she suffers a catastrophic health crisis following her best friend's murder, the long-suffering woman begins receiving divine visions that could change things forever.
Can Anika reclaim her life and find the love she deserves?
Don't Call Me Crazy Again is the second book in the absorbing Don't Call Me Crazy African-American fiction series. If you like stories inspired by true events, deeply drawn characters, and intense personal journeys, then you'll adore Swiyyah Woodard's captivating novel.
Buy Don't Call Me Crazy Again to recover joy today
Swiyyah Productions Inc., 9780988945739, 238pp.
Publication Date: September 16, 2015
About the Author
Swiyyah Nadirah Woodard was selected as a Bay News 9 Everyday Hero, which was seen by two million viewers, for publishing a book and teaching the community about her own battle with mental illness. She was hospitalized six times and diagnosed with paranoid schizophrenia. Her first book, "Don't Call Me Crazy! I'm Just in Love," became required and suggested reading in Reading, Writing, Abnormal Psychology, and General Psychology classes at a four year Institution. She was born in the housing projects of Saint Petersburg, FL. Her father left when she was three. As a teenager she was physically abused by her step dad. The abuse was so severe, God blocked it from her memory. At the age of 20 the brother that molested her committed suicide, which was devastating to her and the entire family. Swiyyah has always viewed herself as normal. She never received any disciplinary problems in school, made good grades, and receive her BA degree in Psychology from the University of South Florida.Because of her experiences, she has grown closer to God and has learned a lot about life, much of which she reveals in her books. Swiyyah has done extensive research, shares her personal experiences, and provides the warning signs she exhibited as a child. She provides resources to help the community and teaches them how to live out their dreams regardless of their disability.