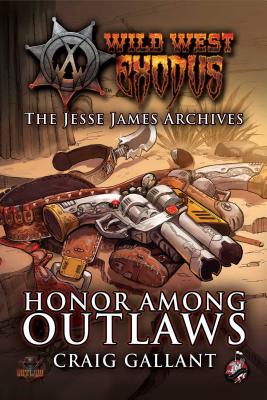 The Jesse James Archives (Paperback)
Honor Among Outlaws (Wild West Exodus)
Zmok Books, 9780988953277, 326pp.
Publication Date: October 1, 2013
Other Editions of This Title:
Paperback (5/6/2014)
* Individual store prices may vary.
Description
Steam punk in the world west

In an alternative history twisted through the evil influence of strange, mysterious creatures, the greatest figures of American history battle for dominance and control of a war-torn nation. High tech machines and weapons dominate the land as the world changes daily with each new invention. In the middle of this class of giants, two lone outlaws, Jesse James and William 'Billy the Kid' Bonnie, strive for recognition and thier share of the glory, struggling for thier place on the national stage
About the Author
Craig is from Bedford New Hampshire where he does his best to warp space and time to fit far more activity into each day than anyone, including his wife, thinks would be advisable. During the day Craig teaches Theatre and Literature courses to the intrepid students of Milford High School. After hours Craig actively pursues kickboxing and mixed martial arts, and is one of the two hosts of the wildly mediocre and not-too-horrible general gaming podcast The D6 Generation. He is husband to a remarkably supportive wife and father to clearly the smartest, cutest, and most promising three year old on the planet (an entirely objective assessment). Craig plays games whenever he can find the time and the opponents, ranging from his recent favorite, a classic South American dice game called Perudo, to whatever the local tabletop war-game flavor of the month happens to be. And in all the voluminous free-time this schedule allows, Craig writes.
or
Not Currently Available for Direct Purchase