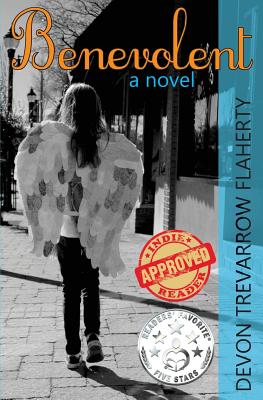 Benevolent (Paperback)
Owl & Zebra Press, 9780988965102, 406pp.
Publication Date: February 21, 2013
Description
Gaby LeFevre is a suburban, Midwestern firecracker, growing up in the 80s and 90s and looking to save the world one homeless person, centenarian, and orphan at a time. With her crew of twin sister, Annie, smitten Mikhail, frenemy Mel, and wanderlust friend Afentra, she's a pamphlet-wielding humanitarian, tackling a broken world full of heroes and heroines, villains and magical seeds, and saturated with variations of the Northwyth legends. Beginning with a roadkill-burying nine-year-old and a gas-leak explosion, Benevolent follows Gaby from her formative years; through her awakening (as an imposing, legendary Queen nearly smashes her to bits under her steed's hooves); through high school drama; a college career filled with an epic term paper, a building fire, and a protest-gone-bad; to Israel, a land full of romance and mysticism. It all ends back in metro-Detroit with a cataclysmic clash to resolve all good intentions. Accidents abound in Gaby's life. As does love. And, thankfully, as does mercy. Meanwhile, Benevolent is woven with tales of The Queen, The Angel, Jaden the Great, and The Sage. Are they figments of John's and Mercedes' imaginative stories? Or are they something more? You'll want to find out for yourself.
About the Author
Devon is a writer in the Durham, North Carolina area. She is originally from metro Detroit, Michigan. She is a mommy, a wife, a hobby yogi, a photographer, painter, believer, and foodie. She has been writing seriously since her very earliest brushes with literature, and has published articles, poems, and photography in literary journals and magazines. She received a Bachelor of Arts in philosophy and was an assistant editor and freelance editor for ten years, during which she wrote copy for and contributed to various research materials. She has been blogging since 2008, first with The Green Notebook (now retired and not to be confused with "the green notebook") and then with RealisticChef. She is launching her lifelong dream and tackling her greatest aspiration-to be a career novelist-with the publication of Benevolent.
Advertisement