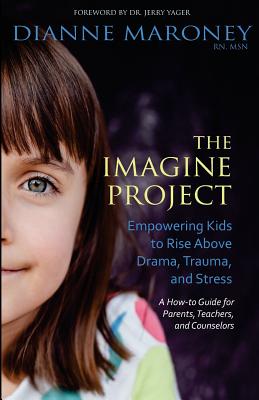 The Imagine Project (Paperback)
Empowering Kids to Rise Above Drama, Trauma, and Stress
Yampa Valley Publishing, 9780988995116, 254pp.
Publication Date: October 9, 2017
* Individual store prices may vary.
Description
The Imagine Project is a How-to guide that helps parents, teachers, and counselors support kids who are dealing drama, trauma, and stress. Beyond the explanations about emotional wellness, how stress affects a child, and the impact of trauma on a child, there are thorough instructions about how to use the powerful, yet simple 7-step expressive writing tool (The Imagine Project Journal) that helps kids overcome difficult life circumstances. It also offers a broad range of other supportive tools including those that are body, mind, spirit focused such as mindfulness and Emotional Freedom Technique (EFT). Every chapter has a Tips for Teachers section for quick implementation references for busy teachers. The book includes inspiring stories from kids of all ages, teachers, and parents. The Imagine Project will encourage kids to honor their resilience, imagine a brighter future, and identify the steps they can take to reach their goals. Most of all, they realize they have the power to write their own story in life Whether you're a concerned parent, teacher, counselor, or youth leader, you'll find information and strategies that will help you offer effective and compassionate support for children who are struggling. This book is aligned with the whole-brain approaches similar to Dr. Dan Siegel's No-Drama Discipline. The Imagine Project will help your classroom and schools become Trauma Sensitive to those who need it, and give children the voice they need to create positive change in their lives.
About the Author
Dianne Maroney is a Clinical Nurse Specialist in Psychiatric/Mental Health Nursing. She is a thought leader in the area of stress and trauma in children, and founded The Imagine Project, Inc., a nonprofit organization that helps kids, teens, and adults overcome challenging life circumstances through expressive writing. Dianne developed a simple yet profound 7-step writing tool, now used by schools across the United States. It works by giving kids and teens the opportunity to write about their deepest personal difficulties, Imagine new possibilities, and amend their stories with brighter, more confident projections into the future. Dianne is the author of the multi-award winning book The Imagine Project: Stories of Courage, Hope and Love (Yampa Valley Publishing, 2013). She also wrote Byron the Caterpillar Who Loved to Imagine (Yampa Valley Publishing, 2017) and Your Premature Baby and Child (Berkley, 1999). She lives outside of Denver with her husband and has 3 grown children.