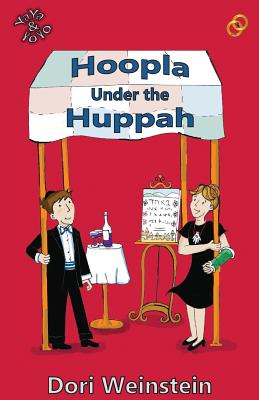 Hoopla Under the Huppah
(YaYa & YoYo, Book 3)
Paperback

* Individual store prices may vary.
Description
Ellie Silver (YaYa) doesn't think she believes in superstition. Yet it seems like lately everywhere she goes and everything she touches brings bad luck. She thinks she may have even upset something called the Ayin Hara, also known as "The Evil Eye." Ellie has been counting down the minutes until she, her twin brother Joel (YoYo), and older brother Jeremy will be in their favorite aunt's wedding. But with all the unfortunate events leading up to the wedding, Ellie wonders if it will just be one gigantic disaster. And how much of that will be her fault? She needs to figure out how to get rid of the bad luck--and fast.
Five Flames Press, 9780989019323, 288pp.
Publication Date: October 16, 2017
About the Author
Dori Weinstein is an award-winning author who grew up in Queens, New York. She is a graduate of Binghamton University (SUNY Binghamton) and Teachers College, Columbia University. Dori taught in public schools in New York City as well as at the Talmud Torah Day School in St. Paul, Minnesota. Dori enjoys visiting schools around the country where she teaches about Jewish books, writing, and publishing. She also teaches Hebrew music to preschoolers while continuing to create more adventures in the YaYa & YoYo series. Dori lives in Minneapolis with her husband Gary and their three children (when they're home, which is not very often). Visit Dori on Facebook, Twitter, and on her website at www.yayayoyo.com.