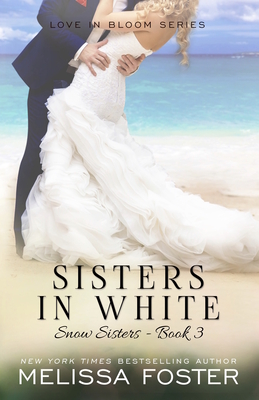 Sisters in White (Paperback)
Love in Bloom: Snow Sisters, Book 3
World Literary Press, 9780989050876, 356pp.
Publication Date: October 17, 2013
* Individual store prices may vary.
Description
Discover the magic of New York Times bestseller Melissa Foster's writing, and see why millions of readers have fallen in love with The Love in Bloom Series.
In SISTERS IN WHITE...
Danica and Kaylie Snow are about to celebrate the biggest day of their lives--their double wedding--on an island in the Bahamas. But no wedding is complete without a little family drama. The two sisters aren't ready to face the father they haven't seen since he divorced their mother and moved away to marry his mistress, and live with Lacy, the half sister they've never met.
While Danica has exchanged letters and phone calls with Lacy, Kaylie has fervently tried to pretend she doesn't exist. Lacy is sweet, fun, and nearly a mirror image of Kaylie. To make matters worse, not only is Lacy looking forward to meeting her sisters, but she idolizes them, too. As the countdown to the wedding date ticks on, their parents are playing a devious game of revenge, and there's a storm brewing over the island, threatening to cancel their perfect wedding. The sisters are about to find out if the bond of sisterhood really trumps all.
SISTERS IN WHITE is part of the Love in Bloom series. While SISTERS IN WHITE can be read as a stand-alone novel, for even more reading enjoyment you may want to read the entire Love in Bloom series in series order.
READ THE FULL LOVE IN BLOOM SERIES:
SNOW SISTERS: Sisters in Love, Sisters in Bloom, Sisters in White
THE BRADENS (Weston, CO): Lovers at Heart, Reimagined, Destined for Love, Friendship on Fire, Sea of Love, Bursting with Love, Hearts at Play, Promise My Love, Our New Love, Story of Love, Daring Her Love, A Very Braden Christmas
THE BRADENS (Trusty, CO): Taken by Love, Fated for Love, Romancing My Love, Flirting with Love, Dreaming of Love, Crashing into Love, Love at Last
THE BRADENS (Peaceful Harbor, MD): Healed by Love, Surrender My Love, River of Love, Crushing on Love, Whisper of Love, Thrill of Love
THE BRADENS & MONTGOMERYS (Pleasant Hill - Oak Falls) Embracing Her Heart, Anything for Love, Trails of Love - Wild, Crazy Heart, Making You Mine, Searching for Love
THE REMINGTONS: Game of Love, Stroke of Love, Flames of Love, Slope of Love, Read, Write, Love, Touched by Love
SEASIDE SUMMERS: Seaside Dreams, Seaside Hearts, Seaside Sunsets, Seaside Secrets, Seaside Nights, Seaside Embrace, Seaside Lovers, Seaside Whispers
BAYSIDE SUMMERS: Bayside Desires, Bayside Passions, Bayside Heat, Bayside Escape, Coming Soon: Bayside Fantasies and Bayside Romance
THE RYDERS: Seized by Love, Claimed by Love, Chased by Love. Rescued by Love, Swept into Love
TRU BLUE & THE WHISKEYS: Tru Blue, Truly, Madly, Whiskey, Driving Whiskey Wild, Wicked Whiskey Love, Mad about Moon
HARBORSIDE NIGHTS: Catching Cassidy, Discovering Delilah, Tempting Tristan, Coming Soon: Chasing Charley, Breaking Brandon
REVIEWS:
Voted BEST BOOK SERIES by Supportive Business Moms, UK
"Like Nora Roberts, Melissa Foster has captivated me with her fantastic, sexy, romantic stories." Kimberly Winning, avid reader
..".love, loss, lies, grief, finding happiness in the face of adversity, romance, humor, bravery, hot hot hot sex scenes, marriages, births and totally awesome characters." --Supportive Business Moms, UK
"Sensual, sexy, and satisfying. A captivating blend of the dance between lust, love, and life." -- Bestselling author, Keri Nola
About the Author
Melissa Foster is a "New York Times" & "USA Today" bestselling and award-winning author. She writes sexy and heartwarming contemporary romance and new adult romance with emotionally compelling characters that stay with you long after you turn the last page. Melissa's emotional journeys are lovingly erotic and always family oriented--perfect beach reads for contemporary romance lovers who enjoy reading about wealthy heroes and smart, sassy heroines.