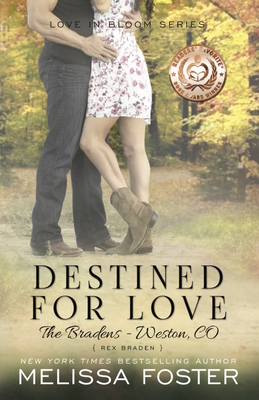 Destined for Love (Love in Bloom: The Bradens, Book 2): Rex Braden (Paperback)
The Bradens, Book 2): Rex Braden
World Literary Press, 9780989050890, 292pp.
Publication Date: November 17, 2013
Description
Voted BEST BOOK SERIES by Supportive Business Moms, UK
***DESTINED TO LOVE is a BRONZE MEDAL WINNER in the Readers' Favorite Awards - Romance Sizzle Category*** DESTINED FOR LOVE is the fifth book in the Love in Bloom series (The Snow Sisters, The Braden, & The Remingtons), and the 2nd book in The Bradens. While Destined for Love can be read as a stand-alone novel, for even more reading enjoyment you may want to read the LOVE IN BLOOM series in series order. Love hot cowboys? Rex Braden is wealthy, hard working, and fiercely loyal. Sweat at his brow, he works the family ranch by day, then kicks back at night with part time lovers who require nothing more than his physical presence a few times each week. But that was before. Before Jade Johnson, the daughter of the man his father has been feuding with for over forty years, moves back into town. After ditching a horrific relationship--and her veterinary practice in the process--Jade Johnson returns to the safety of her small hometown and finally finds her footing. That is...until her horse is injured and Rex Braden comes to her rescue. The last thing she needs is a bull-headed, too-handsome-for-his-own-good Braden complicating her life. Despite the angry family history, sparks fly between Rex and Jade, and attitudes follow. Fifteen years of stifled, forbidden love stirs a surge of passion too strong for either to deny--and the rebel in each of them rears its powerful head. Loyalties are tested, and relationships are strained. Rex and Jade are about to find out if true love really can conquer all. Be sure to get PROMISE MY LOVE, Rex & Jade's wedding novella READ THE FULL LOVE IN BLOOM SERIES: SNOW SISTERS: Sisters in Love, Sisters in Bloom, Sisters in White THE BRADENS (Weston, CO): Lovers at Heart, Destined for Love, Friendship on Fire, Sea of Love, Bursting with Love, Hearts at Play THE BRADENS (Trusty, CO): Taken by Love, Fated for Love, Romancing My Love, Flirting with Love, Dreaming of Love, Crashing into Love THE BRADENS (Peaceful Harbor, MD): Healed by Love (Nate), Surrender My Love
Coming Soon - River of Love THE REMINGTONS: Game of Love, Stroke of Love, Flames of Love, Slope of Love, Read, Write, Love
Coming Soon - Touched by Love SEASIDE SUMMERS: Seaside Dreams, Seaside Hearts, Seaside Sunsets, Seaside Secrets, Seaside Nights, Seaside Embrace
Coming Soon - Seaside Lovers THE RYDERS: Seized by Love
Coming Soon - Claimed by Love, Chased by Love.
About the Author
"What sets Melissa Foster apart are her compelling characters who you care about... desperately. I dare you to read the first chapter and not be hooked." International bestseller, M.J. Rose . "Melissa Foster is a wonderful connector of readers and books, a friend of authors, and a tireless advocate for women. She is the real deal"--Author Jennie Shortridge . Melissa Foster is an award-winning, International bestselling author. She writes contemporary romance, contemporary women's fiction, romantic suspense, thrillers, and historical fiction with emotionally compelling characters that stay with you long after you turn the last page. Her books have been recommended by USA Today's book blog, Hagerstown Magazine, The Patriot, and several other print venues. She is the founder of the Women's Nest, a social and support community for women, the World Literary Cafe. When she's not writing, Melissa helps authors navigate the publishing industry through her author training programs on Fostering Success. Melissa has been published in Calgary's Child Magazine, the Huffington Post, and Women Business Owners magazine. . Melissa hosts an annual Aspiring Authors contest for children, and has painted and donated several murals to The Hospital for Sick Children in Washington, DC. Melissa's interests include her family, reading, writing, painting, friends, helping others see the positive side of life, and visiting Cape Cod. . Melissa is available to chat with book clubs and welcomes comments and emails from her readers. Visit Melissa on The Women's Nest or her personal website.
Advertisement