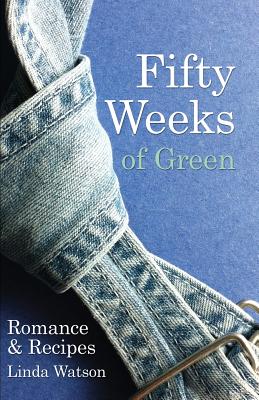 Fifty Weeks of Green
Romance & Recipes
Paperback

* Individual store prices may vary.
Description
Laugh, love, and cook along with Sophia Verde in this parody of Fifty Shades of Grey. Still stinging from being laid off, Sophia stumbles into the Bee's Knees Farm booth on her way to pick up her friend's produce box. She is deeply attracted to farmer Roger Branch, who is earthy, elegant, and curiously private. City-savvy Sophia becomes captivated by the farmer's slow, sensual ways. Although, or perhaps because, he's not a power broker like she's used to, she finds herself longing to become part of his dance with nature and the seasons. It's a romance for the 99%. Sophia barters her skills for a produce subscription of her own, discovering the pleasures of organic farming, seasonal cooking, and generous lovemaking. Along the way, she learns cooking tips and shares over sixty seasonal vegan recipes. Let her help you cut the cholesterol and the cost of your own favorites with core recipes such as Cashew Cream, Flaxseed "Eggs," and Good Baking Mix. Discover new favorites too, perhaps Chocolate Sweet-Potato Breakfast Cake, Lentilicious Sunshine Spread, Sweet-and-Tart Collard Tangle, and Potluck-Pride Peach Cobbler. The index makes finding them easy. Sexy without being explicit and deeply amusing, Fifty Weeks of Green may inspire you to save money, eat scrumptious food, and ignite your inner frisky while making a difference. Readers agree Fifty Weeks is a page turner: From farmer Haruka Oatis: OMG Steamy You're putting sexy into farming It's a real page turner and it makes me hungry at the same time with yummy recipes Bravo From sustainable-agriculture advocate Alice Alexander: WOW. I had to read the whole thing, couldn't stop late last night This is light entertaining read, a hoot but with so much good info woven in, from the benefits of sustainable ag, to using measuring cups from dry to wet - you've got it all in there And it's real, while obviously a spoof. How you managed to weave in so many important aspects in an entertaining way - well, you are one fabulous educator, and a romance novelist to boot From blogger Wendy E. N. Thomas on Live to Write -- Write to Live: There are books that are read for sheer pleasure and there are books that are read for information. How delightful it is when you find a book that skillfully combines the two. In short, I absolutely ate this book up. Fifty Weeks of Green is by Cook for Good's chief cook and researcher, Linda Watson, author of Wildly Affordable Organic: Eat Fabulous Food, Get Healthy, and Save the Planet--All on $5 a Day or Less. She's a food evangelist who focuses on seasonal, thrifty vegan food made with real, whole-food ingredients. Linda Watson is a food evangelist: convinced we can make the world a better place by voting with our forks. She started the Cook for Good project after becoming obsessed with the national Food Stamp Challenge: living on a dollar a meal per person for a week. Her three-week experiment became a lifestyle, the website CookforGood.com, the book Wildly Affordable Organic, and the Wildly Good Cook videos. Her story took a romantic turn recently when she wrote the comic romance Fifty Weeks of Green: Romance & Recipes. She blogs for the Mother Earth News, teaches cooking classes and gives talks on thrift, sustainability, and creating your dream life across the country.
Cook for Good, 9780989072007, 184pp.
Publication Date: June 21, 2013