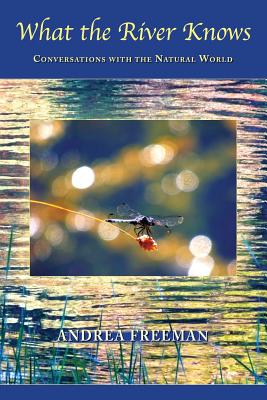 What the River Knows (Paperback)
Conversations with the Natural World
Halcyon Wind Press, 9780989089715, 110pp.
Publication Date: May 11, 2016
* Individual store prices may vary.
Description
A book of poetic reflections that pays tribute to the beauty and wisdom of Nature and invites the reader to open into wonder and gratitude as a way to help heal the Earth and ourselves.
The 41 poems in this collection are inspired by the author's experiences in the natural world and the insights gleaned from these experiences. Whether communing with intertidal creatures on a coastal reef or a Horned Lizard in the desert, or being mentored by a Pileated Woodpecker on a fallen tree or a school of Rainbow Trout in a rushing river, or witnessing the grace with which a swan moves across the water and flocks of birds navigate the sky, with the keen eye of a naturalist, the author finds spiritual meaning that inspires and deepens her reverence for life.
Some of the poems are written in a lyrical style reminiscent of the transcendentalists like Thoreau or the romantics like Whitman, others draw from the simplicity of haiku. All awaken a greater sense of wonder and appreciation for the beauty of the Earth. Many of the poems call to mind the immense journey that has brought us here and the great Mystery that underlies life.
Written with the sensibility of a nature lover and spiritual seeker, the poems in this book serve to heighten awareness of our deeper nature and our interconnectedness with all life and offer a means of cultivating peace and rekindling delight that will help restore balance and joy, both inner and outer, to carry us through these challenging times.