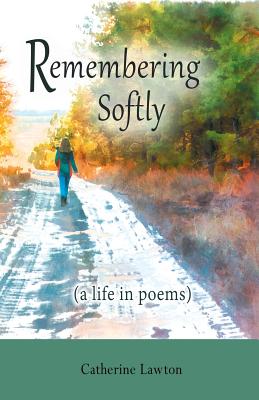 Remembering Softly
A Life in Poems
Paperback

* Individual store prices may vary.
Description
Honest poetry coming out of everyday life, joys and struggles, keen observations of nature, family, friends, and faith.
A beautifully-presented collection composed at various times throughout the author's life. Many of these poems have been published in national periodicals and are collected here in book form for the first time. Together, they offer a spiritual and emotional memoir of a life of searching faith, faltering bu constantly clinging to hope, while learning to love. Both metered rhyme and free verse are employed. Original color illustrations are interspersed among the 73 poems.
From the INTRODUCTION (copyright 2016):
Poets compose poems and readers enjoy them because nothing quite distills the feelings of a moment as does a piece of verse with its resonance, sound, and form. A poem comes from someplace in the heart. And when read, it can reveal something about the heart. Like music, it may employ major or minor tones. I hope the poems in this volume, selected expressions from each stage of my life, will touch a chord for you, my reader - perhaps in a major key of delight or consolation; perhaps with minor overtones of grief or longing. May you find something here to illumine your path and lighten your soul at whatever place of life you find yourself.
From my wanderings in and wondering about nature; from opening more and more to the Divine; from faith, family, and friends; out of noisy living and quiet places; out of whelming emotions, questionings and questing ... come poems to help cope, to make sense of it all, to ennoble earthly life. In crisis has come hope; in fear has come faith; in fragility has come strength; in joy has come affirmation; in loss has come bounteous grace. I want to remember it all, but softly.
Contents:
I.Poems from Adult Years (in reverse chronology)
In the Cleft of a Cold White Rock
Weights of Glory
Earth and Heaven
Snow On Good Friday
God's Anvil
A Choice
Glory
Gladwin
A Man With a Sword
Consolation
In My Heart an Altar
Longing For Home
Friends
Sitting In the Grass On an Autumn Day
Deborah
After the Reunion
God's Inexplicable Work
Living Wounds
Autumn Walk Along the Poudre River
Rhymes For Grandchildren
Waves On the Cladach
After Saying Good-bye
If I Hadn t Looked
On a Walk In Ferndale
A Walk At Dusk
Affirmation
Evening Light
Three 'First' Poems
God Plus One Is a Winning Majority
A River Is Flowing
Cleansing, Healing and Deliverance
Footprints In the Snow
He Calms the Storm
Window Washer
Antidote
God's Husbandman
Beauty
A Friend
Wings of Faith
Why Me?
Blue Asters
Leafy Lament
She Prays
It's Fall
Shadows
Release
Autumn
Renewal
Sleep Baby
II. Poems from Childhood and Teen-age Years (written under the pen name Katie Estell)
Meditation
Daydreams
A Book
My Thoughts
Dreams
Spring
I Have a Friend
For Us
To Larry
He Loves Me
Limerick
I Like To Eat
Delight
Solution For a Soul In Torment
Joy
It's a Beautiful Day
Cladach Publishing, 9780989101455, 112pp.
Publication Date: October 20, 2016