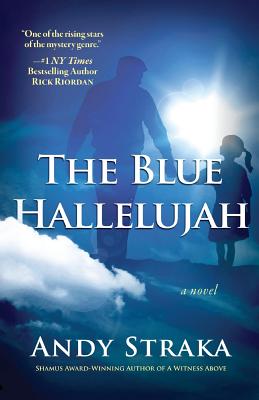 The Blue Hallelujah
Paperback

* Individual store prices may vary.
Description
HOW FAR WOULD YOU GO TO RESCUE YOUR GRANDCHILD AND REDEEM YOUR LONG DEAD SPOUSE? Detective Jerry Strickland and his wife Rebecca shared a secret calling. When Rebecca died of cancer in prison-branded as a disturbed vigilante after killing one of his murder suspects-Jerry knew he needed to put the truth in writing to set the record straight. Now, as an old man nearing his own demise, Jerry is unsure whether to share his narrative about Rebecca with the world. But when his eight-year-old granddaughter Marnee disappears, Jerry learns she's been taken by someone close to the killer depicted in the pages hidden in his dresser drawer. It's time for Jerry to finish the story-by confronting an evil that threatens Marnee's life and the lives of everyone around her. And by placing his faith in a higher power to redeem the love for Rebecca in his heart. ------------------------------------------------------ "Best novel of mystery and suspense I have read in a long time. Andy Straka comes right at your heart with this writing. There is no letting go until you finish the Epilogue. -- David Syrett - 5 Star review "I highly recommend The Blue Hallelujah by Andy Straka. This book is much more than a standard crime/mystery novel. Its pages (if pages really exist anymore) explore issues of life, death and the nature of evil while masterfully presenting a highly suspenseful story as told by a not-long-for-this-world greatest generation narrator. I entered this book concerned that it would be standard fare, a smart cop chasing evil villain, but was then delighted to find a highly original work of fiction that deserves a five-star rating and a spot on your real or virtual bookshelf." -- Wright Forbucks - 5 star review "Wow. This book is absolutely stunning Even this old non-believer was moved by the spiritual aspects of it. I've read most of Mr. Straka's Kindle books and they are all quite excellent, but this one is the most excellent of them all. Too many superlatives? I don't think so." -- Arthur L. Hellyer - 5 star review More Praise for Andy Straka: When it comes to "a brisk page-turner" (Kirkus) and "characters you feel in your bones" (Julia Spencer Fleming), count on "talented author" (Publishers Weekly) Andy Straka. "One of rising stars of the mystery genre." --#1 NY Times bestselling author Rick Riordan.
Cedar Creek Pub, 9780989146593, 236pp.
Publication Date: May 5, 2014
About the Author
Publisher's Weekly has featured Andy Straka as one of a new crop of "rising stars in crime fiction." His books include A WITNESS ABOVE (Anthony, Agatha, and Shamus Award finalist), A KILLING SKY (Anthony Award Finalist), COLD QUARRY (Shamus Award Winner), KITTY HITTER (called a "great read" by Library Journal), and RECORD OF WRONGS, hailed by Mystery Scene magazine as "a first-rate thriller." Andy has worked as a book editor, movie production accommodation agent, commercial building owner and consulting vice president for a large specialty physician's practice, surgical implant and pharmaceutical sales representative, college textbook sales and manuscript acquisition representative, web offset press paper jogger, laborer on a city road crew, summer recreation youth director, camp counselor, youth basketball coach, assistant parts manager at an auto dealership, assistant manager at a McDonalds restaurant, and even been registered as a private investigator. (Not to mention a longstanding stint as a stay-at-home Dad to six, which makes neurosurgery look like tiddlywinks.) A licensed falconer and co-founder of the popular Crime Wave at the annual Virginia Festival of the Book, Andy is a native of upstate New York and a graduate of Williams College where, as co-captain of the basketball team, he "double-majored" in English and the crossover dribble. He lives with his family in Virginia.