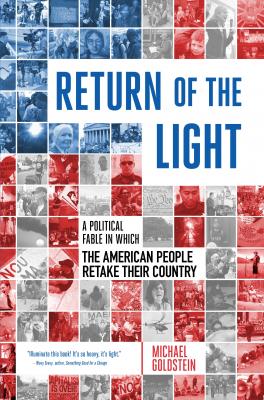 Return of the Light
A Political Fable in Which the American People Retake Their Country
Paperback

* Individual store prices may vary.
Description
It is the night of the Winter Solstice in 2120. At one of thousands of community gatherings across the United States, a storyteller begins the annual retelling of how, back in 2023, the people took over their own government, making it a means for mobilizing their collective power to promote peace, social justice, environmental responsibility, and a society hospitable to the needs of the human spirit.



The storyteller explains the effects of every area of public policy being dominated by corporate interests and why a united movement, led by a new kind of grass-roots organization, was necessary for real change. She tells how, over a period of years, that movement developed to massive proportions and succeeded in creating a nonviolent revolution.



Part vision of the road forward for today's concerned citizens, part organizing tool, Return of the Light is a wonderful source of hope and inspiration.


Praise For Return of the Light: A Political Fable in Which the American People Retake Their Country…
"In these dark days for humanity and the earth, as American capitalism seems unstoppable in its class war on the poor and the American middle class and its reckless destruction of the life-support system of the planet in pursuit of profit for the 1%, Michael Goldstein's Return of the Light offers a story of hope and a vision of an alternative future. It will nourish the souls of the discouraged and challenge the cynicism of those activists and social change agents who feel defeated."

—Rabbi Michael Lerner, Editor of Tikkun Magazine and Chair, The Network of Spiritual Progressives



"This is a poetic and progressive incantation of recent history. Recommended to all who want a new beginning."



—Scoop Nisker, author of Crazy Wisdom, performer, teacher of Buddhism.



"Return of the Light is a utopian Looking Backward analysis of society and how a prosperous, equitable politico-economy can be created. Clearly written, hopeful and useful for those interested in building a real democracy."

—Michael Parenti, author of The Face of Imperialism and Contrary Notions



"Catalogues the failures of consumer capitalism and the future solutions, at the same time and place—a very encouraging read, in a time of little optimism."

—Don Hazen, Executive Editor, Alternet



"Illuminate this book! It's so heavy, it's light."

—Wavy Gravy



"An incredibly comprehensive overview of the sheer madness of the way humans currently cohabit our fragile and volatile planet, coupled with optimism and dramatic, almost unthinkable changes for the better that may still shape our collective future."

—Eliezer Sobel, author of The 99th Monkey: A Spiritual Journalist's Misadventures with Gurus, Messiahs, Sex, Psychedelics and Other Consciousness-Raising Experiments
The Printed Voice, 9780989166102, 169pp.
Publication Date: December 10, 2013
or
Not Currently Available for Direct Purchase