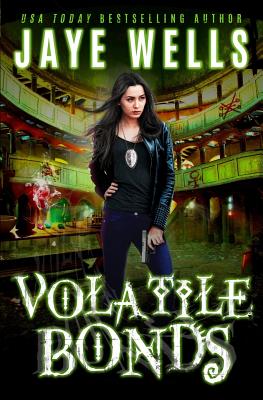 Volatile Bonds (Prospero's War #4) (Paperback)
Jaye Wells, 9780989268486, 350pp.
Publication Date: August 19, 2017
* Individual store prices may vary.
Description
Magic is a drug. Dirty Deals Lead to Deadly Ends. When the Magic Enforcement Agency is called out to the scene of a dirty magic lab explosion, a body with a bullet wound is found in the smoldering ruins. As Detective Kate Prospero and her partner, Special Agent Drew Morales, hunt down the killer, they uncover evidence that a dangerous new coven may be operating in the Cauldron. It's not long before the bodies start piling up, and the heat is on for the team to make an arrest. Solving the murders will require unraveling dangerous alliances between the city's dirty magic covens. And if they're not careful, the new complexities of Morales and Prospero's own partnership threaten to make a volatile situation downright deadly.
About the Author
USA Today Bestseller Jaye Wells is a former magazine editor whose award-winning speculative fiction novels have hit several bestseller lists. She holds an MFA in Writing Popular Fiction from Seton Hill University, and is a sought-after speaker on the craft of writing. When she's not writing or teaching, she loves to travel to exotic locales, experiment in her kitchen like a mad scientist, and try things that scare her so she can write about them in her books. She lives in Texas.