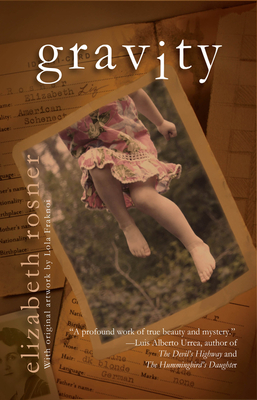 Gravity (Paperback)
Atelier26 Books, 9780989302333, 112pp.
Publication Date: October 7, 2014
* Individual store prices may vary.
Description
Through an extraordinarily powerful mix of poetry and prose, the author shares her experience as the daughter of Holocaust survivors. She recounts her false starts in raising the subject with her father (a survivor of Buchenwald concentration camp), his piecemeal revelations, and their eventual travels together to the sites of the nightmare in Germany. Through her work she evokes, courageously and heart-wrenchingly, her search for identity against the gravitational pull of her parents' experience and the traditional upbringing they've given her. These astonishing pages remind us that history happens at home and that the past is something we all embody, knowingly or not.
About the Author
Elizabeth Rosner has been teaching and writing for more than 30 years. Her fiction has been translated into nine languages and her essays have appeared in "The" "New York Times Magazine," "Elle," "The Forward," and numerous anthologies. She is the author of "Blue Nude," "Electric City," and "The Speed of Light." She lives in Berkeley, California. Lola Fraknoi grew up in Lima, Peru as a second generation Holocaust survivor. Her artwork draws inspiration from nature, the colors of many cultures, and oral history. She lives in San Francisco, California.
Praise For Gravity…
"Elizabeth Rosner's Gravity is a profound work of true beauty and mystery."  —Luis Alberto Urrea, author, The Hummingbird's Daughter
"Daringly, disarmingly raw and honest, Rosner's potent confrontation of the past and ambivalent acceptance of the present coalesce in a haunting, soulful portrait of grief, memory, belief, and comfort."  —Carol Haggas, Booklist

"Admirable for its transparency of feeling."  —Ellen Bass, author, Mules of Love
"Magnificent and unpredictable, guide[s] the reader through an untangling of history, love, anguish, and, ultimately, the hard beauty of revelation."  —Indigo Moor, author, Through the Stonecutter's Wind