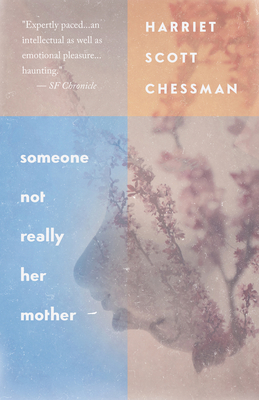 Someone Not Really Her Mother
Paperback

* Individual store prices may vary.
Other Editions of This Title:
Compact Disc (10/1/2004)
Description
This masterful and compassionate novel is split into a series of interlinked stories that tell the tale of Hannah Pearl. As Hannah's memory of the present begins to fade, she increasingly inhabits the world of her ardent and frightened youth in war-torn France and England, while her memories of life in America with her daughter and granddaughters have almost been erased. Throughout the book each character must negotiate the fraught intricacies of memory, geography, and motherhood. The reader will discover and illuminate, with miraculous effect, all the pieces of this intelligent and dream-like puzzle.
Praise For Someone Not Really Her Mother…
A GOOD MORNING AMERICA Book Club selection
An Indie Next Readers Group selection
A San Francisco Chronicle Top Pick

"Chessman paints word pictures bathed in light and color."—Boston Globe

"Powerful...One of the best books of the year." —San Francisco Chronicle
Atelier26 Books, 9780989302357, 158pp.
Publication Date: May 26, 2015
About the Author
Harriet Scott Chessman is a teacher and a librettist. Her fiction has been translated into ten languages, and has been featured in publications such as The Christian Science Monitor, The New York Times, and The San Francisco Chronicle.  She is the author of The Beauty of Ordinary Things, Lydia Cassatt Reading the Morning Paper, and Ohio Angels. She lives in Branford, Connecticut.
The title Someone Not Really Her Mother implies a number of mean­ings. How do you interpret it?
How does Hannah Pearl's loss of memory and inability to find the right words enhance the narrative? How does language play a crucial role in this novel?
We see through Hannah how the trauma experienced by the generation who grew up during the Second World War affected the second and third generations. How has Miranda been affected by her mother's past? Ida and Fiona have also been affected by their grandmother's past but in different ways. How do you explain these differences?
On page 109, Hannah says, "Je suis tellement desolee," and this feeling of being so very sorry, too sorry for words fills this bright air now . . ." Why does Hannah feel so sorry?
Harriet Chessman's novel is filled with wonderful imagery. For ex­ample, on page 3, we are told that Hannah Pearl notices a "young woman with hair the color of honey," echoing the image of the bee in the quote by Virginia Woolf, given in the beginning of the novel. This image is picked up again on page 15, when Hannah remembers another girl with hair "The color of honey," and remembers that this girl is Miranda. Why is imagery so important in this novel? Can you find any other significant images?
Do you agree with Miranda when she says, "Could it be that her mother's deepest sorrow is about something more even than the in­vasion by the Germans, or the Occupation, or what came after? That it's about something in addition to the history she had to breatheand move in, day to day, minute to minute — something in addition to her grievous loss?  Could it be that, at the core, it's a question of love?  Could it be this ordinary a logic, yet misguided?  Emma was kept, proving that Emma was loved.  Hannah was sent to England, proving that Hannah was not loved."
Why is it significant that Hannah Pearl now speaks French after not speaking it for so many years?
The novel ends with Hannah and her grandson, Seamus. Why is this the perfect place to end the novel?