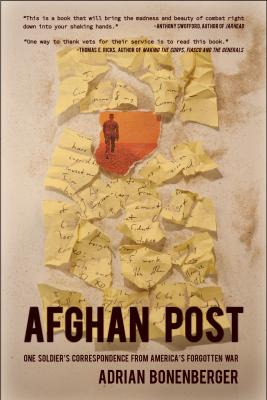 Afghan Post (Paperback)
Head & the Hand Press, 9780989312523, 340pp.
Publication Date: January 7, 2014
* Individual store prices may vary.
Description
Literary nonfiction. Adrian was deployed two times to Afghanistan, first as an executive officer and then as a captain skirmishing with Taliban forces. Throughout his time overseas, he wrote letters to friends, fellow soldiers, and his family. Showing vulnerability to some and steadfastness to others, these letters form AFGHAN POST and chronicle his identity as it splinters under the strain of modern warfare.

This epistolary memoir is a daring look into the mind and experiences of an Afghanistan war veteran. Its form allows readers to explore, along with Adrian, the social, emotional, and physical consequences of mental compartmentalization. As one blurber put it, AFGHAN POST is "the story of a sensitive, intelligent young man as he comes to terms with conflict, privilege, duty, and ultimately himself.
Praise For Afghan Post…
"This is a book that will bring the madness and beauty of combat right down into your shaking hands." - Anthony Swofford



"One way to thank vets for their service is to read this book." - Thomas E. Ricks



"This book is about much more than touching it out as a grunt in the airborne infantry. It is also the story of a sensitive, intelligent young man as he comes to terms with conflict, privilege, duty, and ultimately himself." - Brian Van Reet



"All vets who served in Afghanistan will see themselves in this memoir." - Lt. Gen. (R) Franklin L. Hagenbeck
or
Not Currently Available for Direct Purchase