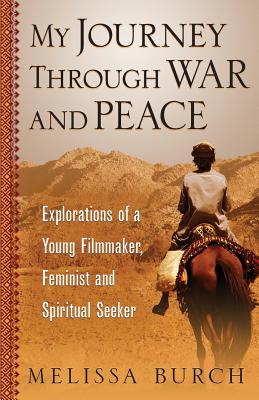 My Journey Through War and Peace
Explorations of a Young Filmmaker, Feminist and Spiritual Seeker (Heroine's Journey #1)
Paperback

* Individual store prices may vary.
Other Editions of This Title:
Digital Audiobook (1/17/2016)
Paperback (6/1/2016)
Description
MEMOIR 2017 SILVER WINNER OF IBPA BENJAMIN FRANKLIN AWARD - 2016 SILVER Foreword INDIES AWARD WINNER -
For readers of Cheryl Strayed, Martha Beck, and Elizabeth Gilbert
In this adventurous spiritual memoir, Melissa Burch discovers that by facing her near death, living outside her comfort zone and trusting her intuition, she could find herself and set a new course for her life.
"My Journey Through War and Peace: Explorations of a Young Filmmaker, Feminist and Spiritual Seeker" is based on Melissa Burch's experiences as a war journalist for BBC, CBS, and other networks. Her team was one of the first documentary crews allowed in the Soviet Union at the height of the Cold War, and she was featured in a New York Times story about her time in Afghanistan. She was just in her twenties when she traveled with the mujahideen, filmed an attack on a Soviet convoy, slept with an Afghan commander, and climbed 14,000-foot mountains in the Hindu Kush.
"My Journey Through War and Peace" examines how, through outward action and inward exploration, life can unfold in mysterious ways, far beyond cultural and family expectations. In looking back at this momentous decade, Burch shares why she pursued such dangerous and difficult circumstances at such a young age and continued to live on the edge. She now understands that she was seeking self-discovery, a connection to something greater, and ultimately inner peace. This exciting adventurous spiritual memoir will resonate with fans of "Eat Pray Love," "Wild," and other popular memoirs that describe extraordinary inner and outer journeys.
Praise for My Journey Through War and Peace
"Grittier than Eat Pray Love."
Amazon Reviewer
"Burch's memoir recounts her remarkable experiences over eight years as a photographer covering the war in Soviet-occupied Afghanistan in the 1980s and as a filmmaker, and also her own personal and spiritual journey as a young woman.... Her accounts provide revealing glimpses into the conflict, Afghan culture, and the dangers of war reporting, particularly for a woman."
Publishers Weekly
"In this memoir, a documentary filmmaker describes her dramatic journeys, both outward and inward... An absorbing, well-written memoir by a brave adventurer who discovered her own life."
Kirkus Reviews
"At twenty-two, Melissa Burch headed to Afghanistan with a camera... determined to film a war for CBS and to find herself. MY JOURNEY THROUGH WAR AND PEACE is the dizzying and dazzling account of that journey."
Foreword Reviews
Gaia Press, 9780989342971, 208pp.
Publication Date: August 4, 2016