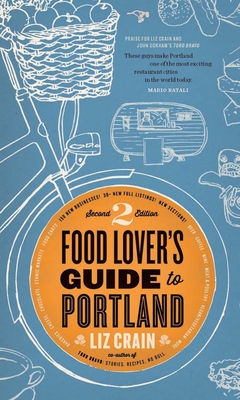 Food Lover's Guide to Portland (Paperback)
Hawthorne Books, 9780989360463, 203pp.
Publication Date: September 9, 2014
Description
For residents and visitors alike, Food Lover's Guide to Portland is a road map to finding the best of the best in America's favorite do-it-yourself foodie mecca. Navigate Portland's edible bounty with this all-access pass to hundreds of producers, purveyors, distillers, bakers, food carts, and farmers markets. This book is the indispensable guide to it all. In the second edition, readers get 20+ new full listings, 150+ new businesses, a new food cart chapter by food cart expert Brett Burmeister, and an Hispanic market section from food writer and Mi Mero Mole owner Nick Zukin. Whether you've lived in Portland your entire life, are visiting for business or pleasure, or are a hungry transplant -- this book helps you find all that is delicious in Portland.
About the Author
Liz Crain is the author of "Food Lover s Guide to Portland" and "Toro Bravo: Stories. Recipes. No Bull." A longtime writer on Pacific Northwest food and drink, her writing has appeared in "Cooking Light," "Budget Travel," "VIA Magazine," "The Sun Magazine," "The Progressive," "The Guardian" and "The Oregonian." She is also an editor and publicity director at Hawthorne Books as well as co-organizer of the annual Portland Fermentation Festival."
Praise For Food Lover's Guide to Portland…
"An astoundingly comprehensive guide to Portland food. Crain has unearthed numerous gems in the nooks and crannies of Portland." Tami Parr, Artisan Cheese of the Pacific Northwest

"Indispensable . . . Crain's book celebrates the local food scene through hundreds of listings and profiles of Portland producers, purveyors, distillers, bakers, food carts, CSAs, farmers markets and beyond." Ashley Gartland, The Oregonian

"NW Book Lovers is hungry, thanks to Liz Crain. We want her to take us on an eating tour of Portland, hitting all the markets and carts and cafes she writes about in Food Lover's Guide to Portland..." Jamie Passaro, Pacific Northwest Booksellers Association

"More than just a restaurant guide . . . contains profiles and interviews with the folksproducing the high-quality ingredients that are largely responsible for putting this little foodie mecca on the map." Megan Zabel, Powell's Books

"A just-bigger-than-pocket-sized compendium of the PDX eating scene that's sure to resonate with the minds, hearts, and bellies of us all." Mike Thelin, Portland Monthly
Advertisement