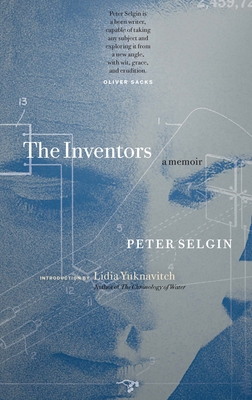 The Inventors (Paperback)
A Memoir
Hawthorne Books, 9780989360470, 416pp.
Publication Date: March 29, 2016
* Individual store prices may vary.
Description
Fall, 1970. At the start of eighth grade, Peter Selgin fell in love with the young teacher who'd arrived from Oxford in Frye boots, with long hair, and a passion for his students that was intense and unorthodox. The son of an emotionally remote inventor, Peter was also a twin with a burning need to feel unique. The teacher supplied that need. They spent hours in the teacher's cottage, discussing books, playing chess, drinking tea, and wrestling. They were inseparable, until the teacher "resigned." Over the next decade they met occasionally and corresponded constantly, their last meeting a disaster. Only after he died did Peter learn that the teacher had completely fabricated his past. As for Peter's father, the British-accented genius inventor, he turned out to be the son of prominent Italian Jews. Paul Selgin and the teacher were both "self-inventors," enigmatic men whose lies and denials betrayed the boy who idolized them. The Inventors is the story of how these men shaped the author's journey to manhood, a story of promises fulfilled and broken as he uncovers the truth about both men, and about himself. For like them--like all of us --Peter Selgin, too, is his own inventor.

About the Author
Peter Selgin is the author of Drowning Lessons, winner of the Flannery O'Connor Award for Fiction, a novel, two books on fiction writing, and several children's books. Confessions of a Left-Handed Man, his memoir-in-essays, was short-listed for the William Saroyan International Prize. His novel, The Water Master, won the Wisdom/Faulkner Society Prize for Best Novel. His essays have won many awards and honors, including six citations and two selections for the Best American anthologies, in which the title essay of his collection appears. Selgin's drama, A God in the House, based on Dr. Kevorkian and his suicide machine, was staged at the Eugene O'Neill National Playwright's Conference in 1991. Other plays of his have won the Charlotte Repertory New Play Festival Competition, the Mill Mountain New Plays Competition, and the Stage 3 Theater Festival of New Plays. His paintings have been featured in The New Yorker, Gourmet, Outside, Forbes, and The Wall Street Journal, and exhibited nationally. Selgin is the prose editor of Alimentum: The Literature of Food, and nonfiction editor and art director of Arts & Letters. He is Assistant Professor of English at Georgia College and an associate faculty member of Antioch University's Creative Writing MFA program in Los Angeles. Lidia Yuknavitch is the National Bestselling author of the novels The Small Backs of Children, Dora: A Headcase, and the memoir The Chronology of Water. Her writing has appeared in publications including Guernica Magazine, Ms., The Iowa Review, Zyzzyva, Another Chicago Magazine, The Sun, Exquisite Corpse, and TANK. She writes, teaches and lives in Portland, OR.