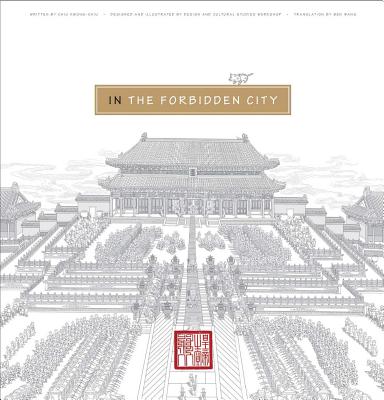 In the Forbidden City (Hardcover)
China Institute in America, 9780989377607, 52pp.
Publication Date: October 14, 2014
* Individual store prices may vary.
Description
"Readers become tourists as each page turn provides views into labyrinthine courtyards and palaces once reserved for imperial China's emperors (...) An impressive introduction to the Forbidden City." -- Kirkus Serving as the seat of imperial power for six centuries, the Forbidden City is one of China's most famous and enigmatic landmarks. Accompanied by a mischievous cat, readers will tour this colossal architectural structure, discovering the secrets hidden inside the palace walls. They will encounter the people who have walked through its halls and gardens, including emperors, empresses, and rebel leaders, and hear exciting tales about the power struggles and intrigues of everyday life. This large format book conveys the grandeur of the Forbidden City through highly detailed line drawings of its buildings, gardens, and courtyards with numerous fold-out spreads. Each page is populated by a large variety of characters and peppered with entertaining anecdotes. Every book includes a plastic magnifying glass for looking at the drawings more closely. "Readers receive a lavish tour of the Forbidden City, once home to Chinese emperors and now a museum, courtesy of Chiu and the Design and Cultural Studies Workshop, which he founded. Delicate line drawings highlight the architectural intricacies of the nearly 178-acre complex (several foldout spreads emphasize its size) while Chiu examines the Ming and Qing dynasties in thorough detail, along with major events in the palace's history. (In one foldout scene, 24 emperors offer pithy, even brusque notes on their reigns -- "I was entirely unaccomplished," says Emperor Longqing.) A magnifying glass is wisely included to help readers appreciate the wealth of visual detail." -- Publishers Weekly
About the Author
Chiu Kwong-chiu is an artist, designer, and professor who explores Chinese traditional visual arts and adopts groundbreaking methods to interpret and promote Chinese art and culture. He founded the CnC Design and Cultural Studies Workshop in Hong Kong, where he provides guidance and leadership in the research, interpretation, and promotion of traditional and contemporary design and Chinese culture. Ben Wang (translator) is a senior lecturer in humanities at China Institute, an instructor of Chinese at the United Nations, and guest lecturer at numerous prestigious academic and cultural institutions.
or
Not Currently Available for Direct Purchase