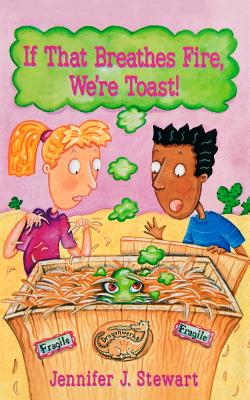 If That Breathes Fire, We're Toast! (Paperback)
Hummingbird Press, 9780989429443, 130pp.
Publication Date: June 19, 2016
* Individual store prices may vary.
Description
Rick is none too happy when his mother ups and drags him from San Diego, where he had friends, to Arizona, where he knows no one except for Fat Boy, his cat. He dreads a long, dull, boring summer, until the day Madam Yang arrives on the scene.
Madam Yang is no fairy godmother. She's a fire-breathing, marshmallow-eating, princess-chasing, time-traveling, hotheaded dragon, with her own ideas on just about everything.
Now Rick and his neighbor Natalie are in the hot seat. Will the two of them be able to keep Madam Yang happy, or will their goose be cooked?
About the Author
Award-winning author Jennifer J. Stewart is known for her seriously funny books for children. Her debut novel-"If That Breathes Fire, We're Toast!"-was named to VOYA's Best Fantasy list and was a finalist for the Oklahoma Sequoyah Book Award. She is also the author of "Close Encounters of a Third-World Kind," "The Girl Who Has Everything," and "The Twelve Days of Christmas in Arizona."When Jennifer is not writing or speaking in schools, she volunteers with the non-profit organization, Make Way for Books, which she co-founded. Its mission is to give all children the chance to read and succeed.