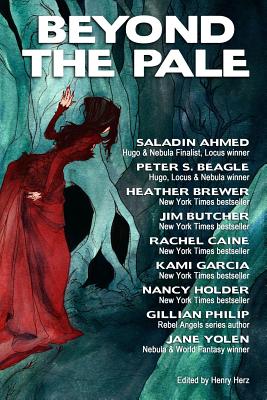 Beyond the Pale: A Fantasy Anthology (Paperback)
A Fantasy Anthology
Birch Tree Publishing, 9780989448734, 232pp.
Publication Date: July 7, 2014
About the Author
Saladin Ahmed's short stories have been nominated for the Nebula and Campbell awards, have appeared in numerous magazines & podcasts. He has also written nonfiction for The Escapist, Fantasy Magazine & Tor.com. Peter S. Beagle is the Hugo, Nebula, Inkpot, and World Fantasy Award for Life Achievement winning author of The Last Unicorn and Two Hearts. The Last Unicorn was adapted to an animated movie. Peter also wrote the screenplay for the 1978 movie version of The Lord of the Rings. Heather Brewer is the NY Times bestselling author of the Vladimir Tod series. She grew up on a diet of Twilight Zone and books by Stephen King. She chased them down with every drop of horror she could find-in books, movie theaters, on television. The most delicious parts of her banquet, however, she found lurking in the shadowed corners of her dark imagination. Jim Butcher is the NY Times bestselling author of the Dresden Files series, the Codex Alera, and a new steampunk series, the Cinder Spires. His resume includes a laundry list of skills which were useful a couple of centuries ago, and he plays guitar quite badly. Since 2003, NY Times and USA Today bestselling author Rachel Caine has written in the adult Urban Fantasy genre (the Weather Warden, Outcast Season, Revivalist and Red Letter Days series) as well as in Young Adult fiction (the Morganville Vampires series and the upcoming novel Prince of Shadows). Kami Garcia is the NY Times bestselling coauthor of the Beautiful Creatures novels and the Bram Stoker Award nominated novel Unbreakable, and the sequel Unmarked, in the Legion series. Kami is fascinated by the paranormal, and she's very superstitious. Nancy Holder is a Bram Stoker Award winning and NY Times bestselling author (the Wicked Saga) also known for her novels and episode guides based on Buffy the Vampire Slayer, Teen Wolf, Beauty and the Beast, and other TV shows. Gillian Philip's books include Crossing the Line, Bad Faith, The Opposite of Amber and the Rebel Angels series. She has been nominated and shortlisted for awards including the Carnegie Medal, the Scottish Children's Book Award and the David Gemmell Legend Award. Jane Yolen is the author of over 300 books, including Owl Moon, The Devil's Arithmetic & How do Dinosaurs Say Goodnight? Her books and stories have won two Nebulas, a World Fantasy Award, a Caldecott, the Golden Kite Award, three Mythopoeic awards, two Christopher Medals, and a nomination for the National Book Award among others.
Advertisement