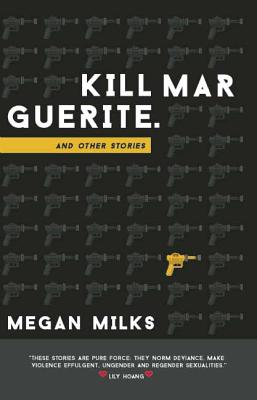 Kill Marguerite and Other Stories
Paperback

* Individual store prices may vary.
Description
"Kill Marguerite and Other Stories" collects thirteen risk-taking stories obsessed with crossing boundaries, whether formal or corporeal. Narrative genres are giddily mongrelized: the Sweet Valley twins get stuck in a choose-your-own-adventure story; Mean Girls-like violence gets embedded within a classic video game. Protagonists cycle through a series of startling, sometimes violent, changes in gender, physiology, and even species, occasionally blurring into other characters or swapping identities entirely. One woman metamorphoses into a giant slug; another quite literally eats her heart out; a wasp falls in love with an orchid; and a Greek god impregnates a man's thigh with a sword. More than just a straightforward celebration of the carnivalesque, though, these fictions are deeply engaged, both critically and politically, with the ways that social power operates on, and through, queer bodies.

Praise For Kill Marguerite and Other Stories…
Wittig's Lesbian Body goes superfreak in this celebration of excess, this inquiry into boundarylessness, this exercise in genre-fuck, this slug-and/or-be-slugged fest. In a collection whose voices range from hard-boiled to hyperbolic to hysterical, Milks seriously probes the implications of social constructionism: we've made a monster (albeit sometimes hot, albeit sometimes queer) of the sexed body, individual and politic. Somehow, happily, Milks keep it comic too. Lots of parts and effluvia, no gratuitous grossness!"

Alexandra Chasin, author of Brief and Kissed By


Megan Milks' debut collection, Kill Marguerite, is a fearless romp through the post-avant wasteland of fictions both Lynchian and Homeric. Milks puts Shelley Jackson's The Melancholy of Anatomy through a cement mixer, grinding out tales as sure to delight as they radically defamiliarize. Here, Sweet Valley High gets a reboot finally worthy of the weird world it built. Milks is a master of the absurd grotesque, and Kill Marguerite is her powerful annunciation."

Davis Schneiderman, author of Drain, and the DEAD/BOOKS trilogy: Blank, [SIC], and Ink.


Genre conventions are commonly thought of as restrictive rules, but in Kill Marguerite Megan Milks shows that these conventions can be agents of perversion, both glaringly porous and ridiculously invasive. Over the course of the book, Milks invokes and employs the genre conventions of fan fiction on, for example, Kafka's Metamorphosis, and then mixes in teen comedies, young adult novels, video games, choose-your-own adventure tales, epistolary novels, gothic tales, family romances, and traumarama' entries, until this melee of genres interrupt each other, parasite each other, and distort each other. The result of this romp is absurd, grotesque, parapornographic, violent, gurlesque, but most of all hilarious in a deadpan kind of way."

Johannes Göransson, Action Books, and author of Haute Couture and Entrance to a Colonial Pageant


"Kill Marguerite mixes pop culture, Greek myth, queer feminism and childhood nostalgia into a gory and gorgeous mess. I got my hands dirty digging into Megan Milks' sanguine collection of short stories. This prose oozes. This prose dripped perversely into my consciousness and stuck. Only a steady and sagacious writer like Milks can make paddling through this kind of muck so absolutely pleasurable."

Amber Dawn, author of Sub Rosa and How Poetry Saved My Life


"The stories in Megan Milks' Kill Marguerite are pure force: they norm deviance, make violence effulgent, ungender and regender sexualities. Each story is a kitsch throwback to back in the day when reading was a fun choose your own adventure; or, these stories are not just carnal, not just animalistic, not just girly: they're amphibian, our full corporeal tenderized to satisfaction, which is to sayhot."

Lily Hoang, author of Unfinished, The Evolutionary Revolution, Changing, and Parabola
Emergency Press, 9780989473606, 207pp.
Publication Date: March 4, 2014
About the Author
Megan Milks lives in Chicago. Her work has been included in "30 Under 30: An Anthology of Innovative Fiction by Younger Writers"; "Wreckage of Reason"; and "Fist of the Spider Woman: Tales of Fear and Queer Desire," as well as many journals. She is the editor of the anthology "The &NOW Awards 3: The Best Innovative Writing," and co-editor of the volume "Asexualities: Feminist and Queer Perspectives," published by Routledge.
or
Not Currently Available for Direct Purchase