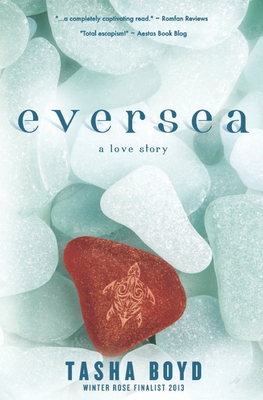 Eversea (Paperback)
a love story
Natasha Boyd, 9780989492508, 358pp.
Publication Date: June 4, 2013
* Individual store prices may vary.
Description
Eversea, a love story, is a Winter Rose Contest FINALIST 2013. Emilia Pisani of Simon & Schuster (judge) says "Great Southern Flavor " and "Jack is an alluring leading man "
"I LOVED this book " and "This book is escapism at its very best. It is a beautiful coming of age story with lots of lovely romance mixed in." Laura Carter, Founder New Adult Book Club on Goodreads and Bookish Treasure Blog.
"I absolutely loved it. I really couldn't get enough." Jess, Book Passion for Life Blog
"Oh EM GEE. What the heck just happened to me " ... and ... "Can't wait for book 2 " Michelle, All Romance Reviews Blog
An orphaned, small-town, southern girl, held hostage by responsibility and self-doubt.
A Hollywood A-list mega-star, on the run from his latest scandal and with everything to lose.
A chance encounter that leads to an unlikely arrangement and epic love affair that will change them both forever.
When his co-star and real-life girlfriend is caught cheating on him with her director, A-list hottie, Jack Eversea, finds himself in sleepy Butler Cove, South Carolina. Jack hopes the sultry southern heat in this tiny coastal Lowcountry town will hide him not only from the tabloids and his cheating girlfriend, but his increasingly vapid life and the people who run it. He doesn't count on meeting Keri Ann Butler.
Keri Ann has relied on herself so long, dealing with her family's death and the responsibilities of keeping up her family's historic mansion, that boys and certainly the meager offering of eligible boys in Butler Cove, have never figured into her equation. But fate has other plans. Suddenly face to face with the man who played the movie role of her favorite fictional character, Jack has Keri Ann yearning for everything she has previously avoided ... and Jack must decide whether this funny, sassy girl is worth changing his life for, before his mistakes catch up to him.
About the Author
Natasha Boyd is a writer with a background in marketing and public relations. She holds a Bachelor of Science in Psychology, and lives in the coastal Carolina Lowcountry, complete with Spanish moss, alligators and mosquitoes the size of tiny birds. She has a husband, two sons and a cat named Tuna. Eversea is her first full-length novel. https: //www.facebook.com/authornatashaboyd http: //pinterest.com/lovefrmlowcntry/ @lovefrmlowcntry http: //www.natashaboyd.com