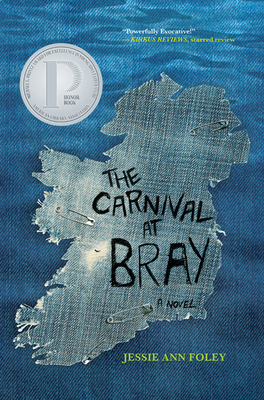 The Carnival at Bray
Paperback

* Individual store prices may vary.
Other Editions of This Title:
Digital Audiobook (7/30/2015)
Prebound (10/1/2014)
Prebound (10/1/2014)
Description
ALA 2015 Top Ten Best Fiction for Young Adults
Chicago Weekly Best Books of 2014
A Michael L. Printz Honor Award Winner
Winner, 2014 Helen Sheehan YA Book Prize
Kirkus Reviews Best Books of 2014
Finalist, William C. Morris Award


It's 1993, and Generation X pulses to the beat of Kurt Cobain and the grunge movement. Sixteen-year-old Maggie Lynch is uprooted from big-city Chicago to a windswept town on the Irish Sea. Surviving on care packages of Spin magazine and Twizzlers from her rocker uncle Kevin, she wonders if she'll ever find her place in this new world. When first love and sudden death simultaneously strike, a naive but determined Maggie embarks on a forbidden pilgrimage that will take her to a seedy part of Dublin and on to a life- altering night in Rome to fulfill a dying wish. Through it all, Maggie discovers an untapped inner strength to do the most difficult but rewarding thing of all, live.

The Carnival at Bray is an evocative ode to the Smells Like Teen Spirit Generation and a heartfelt exploration of tragedy, first love, and the transformative power of music. The book won the 2014 Helen Sheehan YA Book Prize.
Praise For The Carnival at Bray…
"The story, writing and talent of Jessie Ann Foley are strong."  —Louise Brueggemann, children's services supervisor, Naperville Public Library
"Foley's young adult debut offers readers a wonderful, unique picture of adolescence from a fresh new voice."  —Emil Ostrovski, author,
The Paradox of Vertical Flight
"I really fell in love with The Carnival at Bray!"  —Becky Quiroga Curtis, former YA buyer, Books & Books, Miami, FL
"The narrative subtly and carefully interweaves peer and family drama . . . Every character, every place comes alive with crisp, precise detail. Powerfully evocative."  —Kirkus, Starred Review
"Promising debut, set in the heyday of grunge . . . The narrative voice is clear and compelling . . . the secondary characters are complex and sympathetic: Foley has also populated Bray with a host of quirky, loving, and memorable background characters, which enriches the story."  —School Library Journal
"Sweet is the wrong word for
The Carnival at Bray
, but tender works just fine."
  —New City, Recommended Review
"
The Carnival at Bray
is a complex, eloquent, and deep look at one teen's journey . . . I sense many more awards to come – it's that good. Highly recommended!"  —
Wandering Educator
"Beautifully-done coming of age story . . . as bittersweet as a first love and just as unforgettable."  —
Forever Young Adult
"This romantic and original book will be long remembered by its readers."  —Ann Cummins,
VOYA
"This romantic and original book will be long remembered by its readers."  —Ann Cummins,
VOYA
Elephant Rock Productions, Inc., 9780989515597, 235pp.
Publication Date: October 1, 2014
About the Author
Jessie Ann Foley is a Chicago Public Schools English teacher. She holds an MFA in Fiction Writing from Columbia College Chicago. She lives in Chicago.
1. The Carnival at Bray is written in third person, rather than the sardonic first person that's common in young adult now. What access does the third-person point of view allow readers that they wouldn't have known in first person? Why do you think the author made this decision?
2. Ronnie asks Maggie a lot of age-inappropriate questions, to which Maggie responds, "I'll tell you when you're my age." How does Uncle Kevin's way of handling this compare to Maggie's? How does Maggie learn about what it means to be an adult?
3. Many of the characters in The Carnival at Bray are outsiders in some way. How does being an outsider in Ireland shape Maggie's identity? In what ways are the other characters in the novel outsiders?
4. How does Maggie's relationship with her mother, Laura, mature over the course of the book? What does Maggie understand about Laura at the end of the book that she didn't understand at the beginning?
5. How do the song lyrics and poems quoted throughout the novel shape your understanding of Maggie or the time in which she's living?
6. Mental illness is explored through Eoin's mother, Mary, Uncle Kevin, and Kurt Cobain. Discuss the way the author deals with mental illness in this novel.
7. How does Dan Sean mark the passage of time and the history of Bray in the novel?
8. When Maggie and Eoin run away to Rome, they essentially play house. Laura is often described as doing much of the same with Colm. What do you think Maggie learns about love and relationships from her mother, and where do you think she makes an effort to do something different?
9. How are images of the natural world (e.g., the water surrounding Bray or the Italian countryside) used to set the tone of certain scenes?
10. When Maggie decides to travel to Rome to see Nirvana as per Uncle Kevin's instructions, Dan Sean dubs it a pilgrimage. Throughout the novel, she prays to Uncle Kevin for guidance. Discuss Maggie's faith, whether it be in religion, Cobain, love, or Kevin.