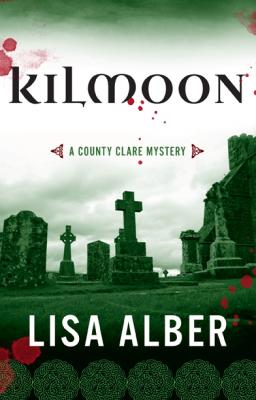 Kilmoon, a County Clare Mystery (Paperback)
Muskrat Press, LLC, 9780989544603, 349pp.
Publication Date: March 18, 2014
Description
Family secrets, betrayal, and vengeance from beyond the grave ... Merrit Chase has just discovered her long-lost father.



Californian Merrit Chase travels to Ireland to meet her father, a celebrated matchmaker, in hopes that she can mend her troubled past. Instead, her arrival triggers a rising tide of violence, and Merrit finds herself both suspect and victim, accomplice and pawn, in a manipulative game that began thirty years previously. When she discovers that the matchmaker's treacherous past is at the heart of the chaos, she must decide how far she will go to save him from himself—and to get what she wants, a family.



Lisa evokes a world in which ancient tradition collides with modern village life and ageless motivators such as greed and love still wield their power. Kilmoon captures the moodiness of the Irish landscape in a captivating mystery that explores family secrets, betrayal, and vengeance.


Praise For Kilmoon, a County Clare Mystery…
"Brooding, gothic overtones haunt Lisa Alber's polished, atmospheric debut. Romance, mysticism, and the verdant Irish countryside all contribute to making Kilmoon a marvelous, suspenseful read."

—JULIA SPENCER-FLEMING, New York Times & USA Today bestselling author of Through the Evil Days



"This first in Alber's new County Clare Mystery series is utterly poetic … The author's prose and lush descriptions of the Irish countryside nicely complement this dark, broody and very intricate mystery."

—RT Book Reviews (FOUR STARS)



"In her moody debut, Alber skillfully uses many shades of gray to draw complex characters who discover how cruel love can be."

—Kirkus Reviews



"Newcomer Lisa Alber's stirring debut Kilmoon … exudes Irish countryside atmosphere. The murder plot is solved neatly and the door is open for Merrit's further adventures."

—Library Journal



"Lisa Alber's assured debut paints Lisfenora, County Clare, at the height of the local matchmaking festival, when the ordinarily sleepy village is crammed with revelers, cadgers, and con men galore. Amid mysteries and mayhem, Alber captures the heartfelt ache in all of us, the deep need for connection, and a true sense of purpose."

—ERIN HART, Anthony and Agatha-nominated author of The Book of Killowen



"In the captivating Kilmoon, Lisa Alber serves up a haunting tale of Merrit Chase, a woman who travels to Ireland to sift through her family's dark past in search of a future seemingly fated to elude her. With exquisite craft and a striking sense of place, Alber serves up a rich cast of unforgettable characters and an intricate, pull-no-punches plot. Raw with grief and painful honesty, Kilmoon is a soulful and beautifully told tale that never lets up, and never lets go."

—BILL CAMERON, author of the Spotted Owl Award-winning County Line



"This hauntingly lovely debut mystery evokes the romance of Irish lore and melds it with the poignant longings of a California woman. When Merrit Chase seeks answers to her deepest heartaches and oldest questions, she slams into the eccentric souls who populate the village of Lisfenora, County Clare, and at least one of them is a killer. Some residents hint at ancient wounds with shocking ties to the present, while others entangle her in their own disturbing intrigues. You will be charmed by this nuanced look into the eternal mysteries of the human heart."

—KAY KENDALL, author of Desolation Row—An Austin Starr Mystery



"Moody . . . Engrossing . . . Lisa Alber weaves an intricate plot and vivid characters into a twisty story about betrayal and family secrets, redemption and love. A splendid debut!"

—ELIZABETH ENGSTROM, bestselling author of Lizzie Borden



"Full of surprises . . . Great Irish setting, compelling characters, and a tale full of passion, hate, and murder, told with style and craft."

—ANN LITTLEWOOD, author of the Iris Oakley "zoo-dunnit" mysteries



"What a beguiling start to this new mystery series! Clever, suspenseful, and complex—Lisa Alber is a consummate storyteller. I can't wait to read her next installment and neither will you."

—MICHAEL BIGHAM, author of Harkness, A High Desert Mystery



"Lisa Alber's gripping debut signals the arrival of an outstanding new voice in the realm of crime fiction. Her dark Irish tale of family, love, murder, and matchmaking is a literary pot of gold."

—JEANNIE BURT, author of When Patty Went Away
Advertisement